dir Anton Corbijn
scr Andrew Bovell
prd Andrea Calderwood, Simon Cornwell, Stephen Cornwell, Gail Egan, Malte Grunert
with Philip Seymour Hoffman, Rachel McAdams, Grigoriy Dobrygin, Robin Wright, Willem Dafoe, Nina Hoss, Daniel Bruhl, Vicky Krieps, Kostja Ullmann, Franz Hartwig, Mehdi Dehbi, Homayoun Ershadi
release US 25.Jul.14, UK 12.Sep.14
14/Germany Film4 2h01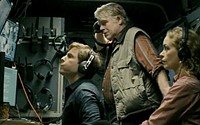 Eavesdropping: Bruhl, Hoffman and Hoss



---
SUNDANCE FILM FEST
R E V I E W B Y R I C H C L I N E

With a slow-burning pace, this political thriller follows a tenacious agent whose only goal is to make the world a better place. This battle takes place in the world of counter-terrorism, and in one of his final roles Philip Seymour Hoffman delivers a stunningly detailed performance that lifts this subtle film into something important.

Gunther (Hoffman) is an exhausted agent in Germany's deepest spy network. As he keeps a watchful eye on terrorists, he notices an unknown Chechen, Issa (Dobrygin), in Hamburg. Curious about what he's up to, Gunther assigns his team (Hoss, Bruhl, Krieps, Ullman and Hartwig) to follow him. Soon, Gunther links Issa to a lawyer (McAdams) and a powerful banker (Dafoe), seeing Issa as a useful pawn in a larger picture. But the cops and security forces just want to arrest Issa on suspicion. Only the US embassy attache (Wright) seems to share Gunther's long-game view.

Based on a John LeCarre novel, this is a telling depiction of the danger of putting too much power in the hands of people who are deeply paranoid. Thoughts of justice and humanity go out the window when civilised countries become quietly oppressive. These are pretty potent themes for a film that looks a bit like a thriller but is actually an exploration of the moral compass points of its key figures.

Hoffman gives a remarkably textured performance as guy who keeps secrets for a living and yet can't help letting his profound exasperation show on his face. It's a character who starts out as a bit of a blob and becomes strikingly edgy as the film progresses. His interaction with every other character bristles with possibilities, and the entire cast is excellent, even if they're all speaking English with faintly German accents.

Meanwhile, Corbijn cleverly draws attention to the surfaces, giving the film a Cold War sheen with a gentle pace, a yellow-brown colour scheme and 1970s-style sets, even though it's set in the present day. Audiences expecting lots of action will find the film's one car chase tepid. But every scene is packed with telling moments that will have art-house fans increasingly glued to the screen. Most refreshing is the script's unwillingness to have a clear-cut hero or villain. Everyone is somewhere in between, and it's the choices they make that seal their fate.
| | | |
| --- | --- | --- |
| | themes, language, violence | 28.Jul.14 |