dir David Dobkin
scr Nick Schenk, Bill Dubuque
prd David Dobkin, Susan Downey, David Gambino
with Robert Downey Jr, Robert Duvall, Vera Farmiga, Billy Bob Thornton, Vincent D'Onofrio, Jeremy Strong, Dax Shepard, Leighton Meester, Ken Howard, Emma Tremblay, Sarah Lancaster, Balthazar Getty
release US 10.Oct.14, UK 17.Oct.14
14/US Warner 2h21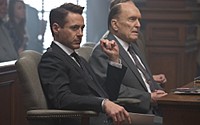 LIke father like son: Downey and Duvall



---
TORONTO FILM FEST
R E V I E W B Y R I C H C L I N E

Oscar bait is rarely this shameless, as director Dobkin indulges in relentless close-ups of his lead actors emoting (or refusing to emote) their socks off. There may once have been an intriguing script here, but it feels badly compromised with corny subplots and unnecessary distractions. And in the end it's also far too superficial to sustain interest over nearly two and a half hours.

Hank (Downey) is a flashy Chicago lawyer with an angry trophy wife (Lancaster) and a precocious daughter (Tremblay) who have never met his family in rural Indiana. This is because he can't bear to be around his dad Joseph (Duvall), the small town's venerable judge. When his mother dies, Hank heads home to pay his respects and support his brothers (D'Onofrio and Strong), rekindling a spark with old flame Sam (Farmiga). Then Joseph is charged with murder, and Hank steps in to defend him from shark-like prosecutor Dickham (Thornton).

The script is carefully constructed to play havoc with our sympathies, painting both Hank and Joseph as bitter grumps who alienate most people around them with their rough-edged sarcasm. But the script is far too timid to carry this off; their vitriol has no teeth, and it's clear from the start that these men are good guys, really. So all of the gyrations of the plot feel as painfully contrived as the three brothers' physical, emotional and mental disabilities. Even the central court case can't resist the usual grandstanding.

Amid all of this, the performances aren't bad. Downey and Duvall have some terrific scenes together, both the fiery shouting and quieter emotions. Farmiga works to keep her character from becoming a cliche, while Thornton invests Dickham with plenty of unnecessarily quirky villainy. And Shepard very nearly steals the film as an inexperienced hick lawyer trying to represent Joseph until the screenwriters shove him aside.

After comedies like Fred Claus and The Change-up, Dobkin is clearly attempting to leap to the big time with this high-minded material. But the resulting film is bloated with its own self-importance, swamping a decent story with inflated ideas and out-of-balance characterisations. This is a shame, because Downey can be qreat in spiky dramatic roles, and Duvall is a pro. But in a movie like this, both come off as just a little bit desperate.
| | | |
| --- | --- | --- |
| | themes, language | 13.Oct.14 |