dir Lenny Abrahamson
scr Jon Ronson, Peter Straughan
prd David Barron, Ed Guiney, Stevie Lee
with Domhnall Gleeson, Michael Fassbender, Maggie Gyllenhaal, Scoot McNairy, Francois Civil, Carla Azar, Tess Harper, Bruce McIntosh, Hayley Derryberry, Lauren Poole, Paul Butterworth, Katie Anne Mitchell
release US Jan.14 sff, UK 2.May.14
14/Ireland Film4 1h34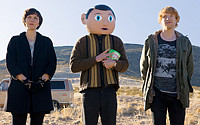 Into the West: Gyllenhaal, Fassbender and Gleeson



---
SUNDANCE FILM FEST

R E V I E W B Y R I C H C L I N E

Loosely based on the life of Chris Sievey (aka Frank Sidebottom), this offbeat comedy continually challenges us both with big ideas and narrative U-turns. It's a remarkably assured comedy with a warm centre underneath a prickly, sometimes maddeningly absurd surface.

Jon (Gleeson) is a nerdy young musician struggling to write a decent song when he's suddenly drafted to play keyboards for Soronprfbs, an electronic art-rock band fronted by Frank (Fassbender), who never removes his oversized papier-mache head. Band members include hapless manager Don (McNairy), terrifying noise-maker Clara (Gyllenhaal) and aloof musicians Baraque and Nana (Civil and Azar). Jon feels extremely out of place when he travels to Ireland for a gig, then is convinced to help them write and record their next album.

Taken at face value, as it were, the film is as bonkers as any of Soronprfbs' songs: nonsensical madness that can erupt into eerie harmony at one moment then descend into complete chaos the next. But what holds the film together is an emotional core that lets us see into each of the characters when we least expect to. As a result, all of these people begin to feel like family to us. They may be rather insane and not always likeable, but they're close and human, with yearnings and opinions.

Much of the film's humour comes in the clash of personalities between six band members who probably should never be in a room at the same time. Gleeson is like an endearing bratty little brother. We can't help but share his enthusiasm, and Jon's conversations with Frank have a startling resonance. Fassbender somehow finds Frank's soul without the use of his face, letting his voice and physicality speak for him. And Gyllenhaal gives the freaky Clara an unpredictably emotional inner life.

In other words, nothing about this film should work. The plot is fragmented, lurching from wild slapstick to blackly comical violence to elusive performance art as the band travels from Ireland to Texas for a gig at SXSW that's destined to be apocalyptic. Then where we end up is both unnerving and deeply satisfying. And we feel like we have been on this strange odyssey along with Jon, meeting eccentric people who make sure the world never looks the same again.
| | | |
| --- | --- | --- |
| | themes, language, violence, sexuality | .14 10.Mar |


Kallie Wilbourn, Las Vegas, New Mexico:

Frank (Fassbender) is a true artist, willing to go off the rails in pursuit of spontaneous, living creativity. John (Gleeson) is a manchild of limited imagination, yet Frank is so open, he is willing to listen to John. Everyone pays a price for this, but art wins in the end, after much suffering. Perhaps it is questionable to see this movie as a parable about incorruptible creativity as the only path to true art (rather than an inane consumer product) but that is how I see it. Great acting all around. Gleeson is wonderful as the clueless guy who just wants to please, Gyllenhaal and the other band members are great as arts acolytes, and Fassbender does an amazing job from under that fiberglass head. I liked the music! And I laughed aloud several times without quite knowing why. (16.Oct15)