dir Bryn Higgins
scr Joe Fisher
prd Clare Duggan, Bryn Higgins
with Agyness Deyn, Lenora Crichlow, Christian Cooke, Paul Anderson, Tom Georgeson, Alice Lowe, Ben Batt, Saffron Coomber, Callum Coates, Millie Taylforth, Jake Gibbons, Stephen Robson
release UK 5.Dec.14
14/UK BFI 1h30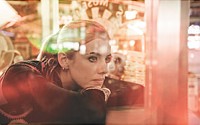 Sing the body electric: Deyn



---

R E V I E W B Y R I C H C L I N E

While this film has enough visual panache to please arthouse audiences, its script is simply too thin to back up the imagery with any resonant meaning. The solid cast never gets the chance to delve deeply into the characters and, in the end, the filmmaker's emphasis on eye-catching flourishes leave everything else feeling rather simplistic and empty.

While suffering regular epileptic seizures due to her refusal to update her meds, Lily (Deyn) finds life further interrupted by her mother's death. With help from her boss (Georgeson), she contacts her brother Barry (Anderson), who plans to sell Mum's house and split the cash. But Lily wants to find their brother Mikey (Cooke), who disappeared four years ago. Travelling from Lancashire to London, Lily sets off to find him, following a trail that leads to a homeless girl (Coomber), a helpful stranger (Crichlow) and a sexy man (Batt) who may know where Mikey is.

Lily's seizures are like an electrical explosion in her brain, and director Higgins uses clever camera tricks and visual effects to put her point of view on-screen. These scenes are genuinely distressing, or they would be if there was any real sense of peril. Instead we wonder why Lily doesn't fix her dosage to keep them from happening so regularly. The problem is that this, along with her genuine hapless naivete, makes her both unlikeable and rather implausible.

Deyn is solid in the role, even if she never looks like anything other than a supermodel. Impeccable make-up and painstakingly quirky costumes continually remind us that Lily is a movie character, not a fragile woman on a journey. Indeed, the character has virtually no arc. But then no one in the film does. The script seems happy to leave everyone wallowing in their own misery, coping in whatever way they can: Barry through gambling and Mikey through drugs, apparently, and so on.

That said, it looks extraordinary, combining a variety of inventive filming techniques to achieve an almost dreamlike vibe, most strikingly in a pinhole camera sequence that reprises frequently. It's also relentlessly indulgent and abrasive, mainly due to the insistent song score and choppy editing. But the real issue is that Higgins never breaks this deliberate surface. There are some very strong emotional moments, but it's impossible to figure out what the writer and director are trying to say. Beyond trumpeting their own talent.
| | | |
| --- | --- | --- |
| | themes, language, violence, sexuality | 8.Sep.14 |