dir-scr-prd Captain John Noel
with George Mallory, Andrew Irvine, T Howard Somervell, Edward F Norton, Noel Odell, Bentley Beetham, John de Vere Hazard, Charles G Bruce, C Geoffrey Bruce, EO Shebbeare, RWG Hingston, Rongbuk Lama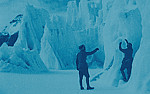 release UK 4.Dec.24, US 22.Mar.27
restored 18.Oct.13
24/UK 1h27

---


In documenting the third expedition up Everest, filmmaker Noel demonstrates a staggering amount of stamina as well as groundbreaking technical and artistic skills. Watching this 1924 film is a mystical experience, revealing the big mountain in ways no one as ever done since. And this digital restoration makes it essential viewing.

Noel was an explorer himself, disguising himself as a Tibetan to get his first glimpse of Everest in 1913, perhaps the first Westerner to see it firsthand. After suggesting that it was climbable, the first reconnaissance trip took place in 1921, and Noel shot the first film of Everest on 1922's second expedition. Then he returned with much more robust equipment in 1924 to document Mallory and Irvine's now legendary attempt. They may have reached the summit, but no one will ever know.

Before we see anything, a lengthy text introduces the wondrous mountain known locally as Chomolungma, "Goddess Mother of the World". Noel's awe infuses his words, as he refers to "lofty solitudes" that are "unseen by man" while also taking the time to record details of the Tibetan culture and the intrepid spirit of the expedition's leaders. Yes, he is seeing this through colonial eyes, commenting on "filthy" conditions and "pagan" beliefs, mixing journalistic observation with poetic description. He is clearly entranced by everything he sees, and his photography has an eye for telling detail.

From Darjeeling, this procession of "500 men and animals" works its way up the mountain, and the film's tone becomes magical as we are dazzled by tinted images of glaciers and ice fields. Using a specially made telephoto lens, he shoots the climbers from an unprecedented distance. The film is packed with memorable moments: the birth of a donkey, the traverse across the "Ice Fairyland", a daring rescue and the heart-stopping events surrounding the deaths of Mallory and Irvine.

All of this is punctuated with majestic images of shifting light on Everest's flanks. And for this restoration, a new score by Simon Fisher Turner adds an eerie timeless sensibility , mixing actual Tibetan sounds with electronic music and orchestral richness. It's a remarkable achievement that brings this material vividly to life for an audience 90 years later. As a result, this film has something profoundly, provocatively important to tell us about our own humanity.
dir Robin Hardy
scr Anthony Shaffer
prd Peter Snell
with Edward Woodward, Christopher Lee, Diane Cilento, Britt Ekland, Ingrid Pitt, Lindsay Kemp, Russell Waters, Aubrey Morris, Irene Sunters, Walter Carr, Ian Campbell, Leslie Blackater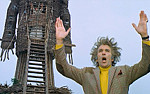 release UK Dec.73, US Jun.75
restored UK/US 27.Sep.13
73/UK British Lion 1h32


Restored to director Hardy's original version for its 40th anniversary, this "final cut" is a lot of fun, mainly for the iconic British thriller's gonzo early 1970s sensibilities. No, it hasn't dated particularly well, and Hardy's rampant misogynistic tendencies feel even more appalling now. But it's still an unmissable one-off.

Deeply religious West Highlands police detective Howie (Woodward) takes his seaplane to investigate reports of a missing child on Summerisle, a dramatic island far off the Scottish coast, where the wealthy, charismatic landowner Lord Summerisle (Lee) has led the locals into pre-Christian pagan beliefs. Treated as a suspicious interloper, Howie's investigation is repeatedly thwarted by uncooperative residents who seem bizarrely sinister as they offend his sensibilities with their disdain for the church and free sexuality.

The film is like a riot of late-60s hippie imagery, with flower-power sprites cavorting naked in the fields, holding midnight orgies in graveyards and singing rude pub songs. Classic characters include Cilento's licentious teacher Miss Rose and Ekland's hilariously oversexed Willow, daughter of lively pub owner MacGreagor (Kemp). And Lee is frankly amazing. But it's Woodward who keeps us engaged. Can Howie possibly find this missing girl? Will he resist Willow's siren call? Is his impulsive decision to disguise himself as the jester in the May Day parade a big mistake?

Deeply of its time, the soundtrack is packed with now-ridiculous songs performed by the cast members, including the continually recurring Corn Riggs (with lyrics from a Robert Burns poem). The imagery is just as dated, with naked women everywhere while the men remain either clothed or carefully cropped by the camera frame. And even the collision of Christian and heathen worlds feels oddly quaint. On the other hand, there's now an eerie resonance in the island's desperation about their failing crops and the resulting dire economy. Maybe a big pagan ritual can fix that.

Even with all of this period nuttiness, the film holds our attention as Woodward's increasingly frazzled Howie gets deeper and deeper into the mystery of this strange place and its elaborate mythology. In the end, the movie grabs our imagination with its twisty plot. And that finale on the windswept cliff-top with the giant wicker man is still indelible.