dir Robert Rodriguez
scr Kyle Ward
prd Robert Rodriguez, Sergei Bespalov, Aaron Kaufman, Iliana Nikolic, Alexander Rodnyansky, Rick Schwartz
with Danny Trejo, Michelle Rodriguez, Demian Bichir, Mel Gibson, Carlos Estevez, Amber Heard, Sofia Vergara, Lady Gaga, Antonio Banderas, Cuba Gooding Jr, Walton Goggins, Vanessa Hudgens
release US/UK 11.Oct.13
13/US 1h48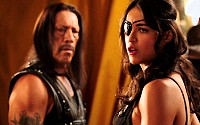 Not messing around: Trejo and Rodriguez


---
See also:



R E V I E W B Y R I C H C L I N E

Continuing the gleefully silly tone of 2010's B-movie pastiche Machete, Rodriguez packs this spoof with iconic actors in goofy roles. The film is often very funny, even though the pacing is extremely slack, wasting far too much time with pointless exposition and misogynistic smirking.

After his partner (Jessica Alba) is killed, undercover immigration agent Machete (Trejo) is assigned by the US President (Estevez, aka Charlie Sheen) to track down drug kingpin Mendez (Bichir). In the process Machete uncovers a nefarious plan to blow up Washington DC, following the trail back to defence contractor Voz (Gibson). Along the way he works with a beauty-queen operative (Heard) and illegal immigrant smuggler She (Michelle Rodriguez) while running afoul of an angry brothel madam (Vergara) and tenacious disguised hitman Camaleon.

Once again, the film is a riot of hyper-violent action and buxom babes. Aside from the hilariously committed Trejo, the actors never really try. Gibson camps it up in an over-extended role that might have been amusing if it didn't wear out its welcome. Sheen can't resist poking fun at himself with to-camera comments. And Bichir at least has some fun as a split-personality nutcase. But Vergara and Heard merely play with their voluptuous physicality, which might be enough for some viewers.

As before, the movie bursts with rapid-fire cameos. Gaga, Gooding and Banderas have fun in their brief scenes, while others like Hudgens and Rodriguez alumna Alexa Vega barely register. But at least they add to the fun as we play spot-the-star amid the generally chaotic structure, which surges through cheesy, quick-fire action slapstick then gets bogged down in lengthy dialog, never building any momentum at all. Rodriguez seems more interested in setting up another gruesome joke than keeping the story moving.

So by the time the story limps into its climax, the only fun is in watching disgraced stars rehabilitate themselves on-screen before suffering some sort of imaginatively messy death. Rodriguez packs the film with inspired gags (including a riotous 3D joke) and vague echoes of big political themes. And from a mock trailer, we also know that the indestructible title character will return in Machete Kills Again ... in Space, possibly costarring Justin Bieber and Leonardo DiCaprio. If only.
| | | |
| --- | --- | --- |
| | themes, violence, language, sexuality | 13.Sep.13 |