dir Roger Michell
scr Hanif Kureishi
prd Kevin Loader
with Jim Broadbent, Lindsay Duncan, Jeff Goldblum, Olly Alexander, Xavier De Guillebon, Judith Davis, Brice Beaugier, Charlotte Leo, Lee Michelsen, Marie-France Alvarez, Denis Sebbah, Sebastien Siroux
release UK 11.Oct.13
13/UK Film4 1h33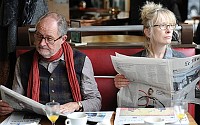 Happy anniversary: Broadbent and Duncan



---
TORONTO FILM FEST
R E V I E W B Y R I C H C L I N E

A sharply observant screenplay, observant direction and, most of all, translucent performances elevate this marital comedy-drama above the fray. Like a 20-years-later sequel to Before Midnight, this is that rare mature film about grown-up people tackling real-world issues with wit and intelligence.

To celebrate their 30th anniversary, Nick and Meg (Broadbent and Duncan) stretch their finances to have a weekend in Paris, abandoning their seedy pre-booked hotel to splash out on a suite with a view of the Eiffel Tower and eat in posh restaurants thy can't afford. Their conversations encompass hopes and regrets, hard questions and a spark of still-smouldering sexual chemistry. Then they run into Nick's old Cambridge pal Morgan (Goldblum), who invites them to a party packed with academics and artists like them. And it pushes them in unexpected directions.

In their conversations, we discover the issues that haunt them. Philosophy professor Nick has been forced into early retirement for a frank remark to a student, while Meg is looking at changing her life completely. And their layabout son wants to move his family in with them. Their interaction that drives the film forward, flowing from flirtation to bitterness, professions of real love masking cruel resentment, a sense of security undermined by nagging doubt. It's funny and scary at the same time, and grippingly honest.

Broadbent nails Nick's loveable-artist persona, a deep thinker who can't quite express himself and knows that Meg is out of his league. Duncan shines in a seriously complex role as Meg circles Nick wondering if he's really the best thing life has to offer her, but unable to imagine life without him. And the chatty Goldblum is terrific as a guy who knows he's lucky, especially with his devoted, pregnant young wife (Davis). "She can't see through me yet," he says, "but she will." There's also a strong turn from Alexander as his distant teen son.

Watching Nick and Meg spiral through their emotional interaction sometimes feels repetitive: closeness, distance, affection, isolation, attraction, repulsion, tenderness. But these feelings of course all exist at the same time. As Nick observes, love is the hardest and most interesting thing we do in life ("It's far more difficult than sex!"). And sometimes we need an astute film like this to remind us that it's worth the effort.
| | | |
| --- | --- | --- |
| | themes, language, innuendo | 13.Aug.13 |