dir-scr Nicholas Jarecki
prd Laura Bickford, Justin Nappi, Robert Salerno, Kevin Turen
with Richard Gere, Susan Sarandon, Tim Roth, Brit Marling, Nate Parker, Laetitia Casta, Stuart Margolin, Chris Eigeman, Graydon Carter, Bruce Altman, Larry Pine, Curtiss Cook
release US 14.Sep.12, UK 1.Mar.13
12/US Lionsgate 1h47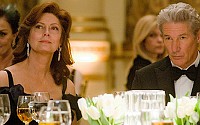 Not-so-happy couple: Sarandon and Gere


---
SUNDANCE FILM FEST
R E V I E W B Y R I C H C L I N E

This contained drama chillingly traces the private collapse of a charming, wealthy man. It's structure is a bit contrived, but the actors make it riveting. The themes are potent, starting with the observation that all major world events revolve around money. And that economic collapse is inevitable.

At 60, Robert (Gere) is a financial mogul living the high life on his private jet while seducing the media with his intelligent wit. When he decides to sell his company, his wife Ellen (Sarandon) hopes she'll get to see more of him. As does his French art-dealer mistress Julie (Casta). But the market's in trouble, and Robert is being squeezed from all sides. Then he's involved in a fatal car crash, calling estranged friend Jimmy (Parker) for help. But a tenacious police detective (Roth) is on the case.

Although it's moody and insinuating, the film has the too-obvious tone of a TV movie, with its procedural subplots, strangely bland Cliff Martinez score, close-up camerawork and moralising nods to family values. But Gere finds plenty of subtext, giving a riveting turn as Robert does his business first and worries about morality later. Gere is simply terrific at playing a man putting on a sheen of effortless control as both his empire and private life fall apart.

But the script diffuses Robert's central drama by detailing a spider's web of personal and professional problems. Jarecki continually cuts away from Robert to show the cops closing in on him, while Robert's colleague/daughter (Marling) uncovers internal irregularities and an important client (Carter) delays a critical deal. These conversations make the film a little exhausting, even though each actor gives a raw, natural performance that cuts through the surface at every opportunity.

Fortunately, the script doesn't wallow in the financial details, providing just enough information to echo headlines about the fraudulent banking practices that caused the current meltdown. But then money is only one of the many problems the screenplay piles on Robert. One thing the film never says is that "arbitrage" refers to a simultaneous sale and purchase to profit from price discrepancies. And the film's message is that if you play this kind of dangerous game, you should expect to eventually take a hit.
| | | |
| --- | --- | --- |
| | themes, language, violence, drugs | 19.Feb.13 |