Apocalypse
dir-scr Nacho Vigalondo
with Eva Llorach, Miguel Insua • Spain
---
Bigfoot
dir-scr Adrian Garcia Bogliano
with Greta Martinez, Harold Torres • Mexico
---
Cycle
dir-scr Ernesto Diaz Espinoza
with Matias Oviedo, Juanita Ringeling • Chile
---
Dogfight
dir-scr Marcel Sarmiento
with Steve Berens, Chris Hampton • US
---
Exterminate
dir Angela Bettis
scr Brent Hanley
with Brenden J McVeigh • US
---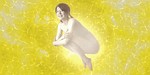 Fart
dir-scr Noburu Iguchi
with Arisa Nakamura, Yui Murata • Japan
---
Gravity
dir-scr Andrew Traucki • Australia
---
Hydro-Electric Diffusion
dir-scr Thomas Cappelen Malling
with Martine Arnes, Johannes Eilersten • Norway
---
Ingrown
dir-scr Jorge Michel Grau
with Adriana Paz, Octavio Michel • Mexico
---
Jidai-Geki (Samurai Movie)
dir-scr Yudai Yamaguchi
with Daisuke Sasaki, Takashi Nishina • Japan
---
Klutz
dir-scr Anders Morgenthaler • Denmark
---
Libido
dir-scr Timo Tjahjanto
with Paul Foster, Kelly Tandiono • Indonesia
---
Miscarriage
dir-scr Ti West
with Tipper Newton • US
---
Nuptials
dir-scr Banjong Pisathanakun
with Wiwatt Krongrasri, Orn-Arnin Peerachakajornpatt • Thailand

Orgasm
dir-scr Bruno Forzani, Helene Cattet
with Manon Beuchot, Xavier Magot • Belgium
---
Pressure
dir-scr Simon Rumley
with Yvanna Milton, Valentino Sabajo • UK
---
Quack
dir Adam Wingard
scr Simon Barrett
with Adam Wingard, Simon Barrett • US
---
Removed
dir Srdjan Spasojevic
scr Dimitrije Yojnov, Srdjan Spasojevic
with Slobodan Bestic, Ljubimir Todorovic • Serbia
---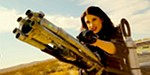 Speed
dir-scr Jake West
with Darenzia, Lucy Clements • UK
---
Toilet
dir-scr Lee Hardcastle
with Kim Richardson, Lee Hardcastle • UK
---
Unearthed
dir Ben Wheatley
scr Ben Wheatley, Andy Starke
with Neil Maskell, Michael Smiley • UK
---
Vagitus (The Cry of a Newborn Baby)
dir-scr Kaare Andrews
with Kyra Zagorsky, Fraser Corbett • US
---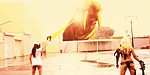 WTF!
dir-scr Jon Schnepp
with Jon Schnepp, Tommy Blacha • US
---
XXL
dir-scr Xavier Gens
with Sissi Duparc, Yasmine Meddour • France
---
Youngbuck
dir-scr Jason Eisener
with Tim Dunn, Ryan Logan • Canada
---
Zetsumetsu (Extinction)
dir-scr Yoshihiro Nishimura
with Hiroko Yashiki, Seminosuke Murasugi • Japan
---
prd Ant Timpson, Tim League
release US 8.Mar.13,
UK 26.Apr.13
12/US 2h09
---
TORONTO FILM FEST

R E V I E W B Y R I C H C L I N E

Anthology movies are always hit and miss, but the average here seems a bit low. Of 26 shorts on the theme of death, a handful show real inventiveness, but most feel like pointless filler and a few are bewildering misfires. And quality ranges from gorgeous feature-film production values to cheesy home video. Fortunately they're all very brief.

The producers gave 26 global directors a letter of the alphabet and offered complete artistic freedom to make their shorts. The best clips are the simplest, which use a clear idea to create something haunting: Wheatley's Unearthed is a witty point-of-view shot that offers a fresh, gleefully nasty angle on the vampire genre. Grau's Ingrown is a grisly and disorienting scene of violence that adds a modern jolt to Psycho. Espinosa's Cycle is a haunting circular nightmare. And Gens' XXL is a freaky exploration of the tyranny of skinny fashion models.

Also notable because of their use of humour are Pisathanakun's Nuptials, in which a talking parrot kind of spoils a proposal, and Apocalypse, in which a wife's careful plan is interrupted by the end of the world. And then there are the gimmicky films: the trashy exploitation of Speed, a tenacious spider in Exterminate, the overpoweringly grotesque Removed and a messy samurai execution in Jidai-Geki. Meanwhile, two filmmakers use animation to gross us out with amusing toilet stories (the hand-drawn Klutz and the claymation Toilet), and two Americans make self-referential films that whinge about their letter assignments (Wingard's Quack is snappy, while Schnepp's WTF is insane).

Two shorts are so slight that they're almost not there (Gravity shows us a surfer's perspective, while Miscarriage is essentially over before it starts). Even more forgettable are the vague clips that make little sense, including the Belgian collage Orgasm and the swirl of prostitutes and kittens in Pressure. And there are a few that are completely bonkers, including an evil Nazi kitten in Hydro-Electric Diffusion and the sadistic, surreal Zetsemetsu.

But the ones that most viewers will never be able to forget are the apocalyptic lesbian flatulence romance Fart and the transgressive sex and gore contest in Libido. You get the feeling that this is what the producers had in mind when they came up with this experiment.
| | | |
| --- | --- | --- |
| | themes, language, violence, sexuality | 24.Apr.13 |