dir-scr David Cronenberg
prd Paulo Branco, Martin Katz
with Robert Pattinson, Paul Giamatti, Sarah Gadon, Juliette Binoche, Samantha Morton, Kevin Durand, Abdul Ayoola, Patricia McKenzie, Emily Hampshire, Jay Baruchel, Mathieu Amalric, K'Naan
release Can 8.Jun.12, UK 15.Jun.12,
US 17.Aug.12
12/Canada 1h48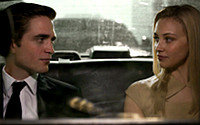 Rich kids: Pattinson and Gadon



---
CANNES FILM FEST
R E V I E W B Y R I C H C L I N E
Artful, intelligent and wilfully obtuse, Cronenberg uses his skill to hold our interest through this oddity of a film. But it's difficult to engage with such fragmented film, especially when its big themes are hidden in overwritten dialog.

Eric (Pattinson) is a 28-year-old billionaire who wants a haircut. As he climbs into his high-tech limousine, his security chief (Durand) warns about traffic problems because the US President's in Manhattan. En route, Eric continues his routine, meeting his computer expert (Baruchel), theoretician (Morton) and financial advisor (Hampshire), who talks to him during his daily prostate exam. He also sees his new wife (Gadon) several times, has sex with two women (Binoche and McKenzie), endures an anarchists' riot, gets a pie in the face and confronts a man (Giamatti) who wants to kill him.

The film is a series of abrupt scenes that only occasionally link together, which makes Eric's journey feel interminable. So Cronenberg builds tension with hints of threats, trouble in the markets and business issues, plus a range of visitors and obstacles. He also slowly ratchets up the sound mix, from utterly silent at the beginning to frantic noise accompanied by Howard Shore's unnerving score. But none of this draws us in because it's impossible connect with the story or characters.

Pattinson nails Eric's sarcastic callousness, vividly portraying a cold-hearted man who thinks the world revolves around him. Along his journey, Eric is drawn further into himself, contemplating the meaning of his life without proper context. He clearly doesn't think rules apply to him, and believes that success makes him smarter and deeper than everyone else. But since the opposite is actually true, we don't care about anything he says or does. And in the end, he faces Giamatti in an overlong climax that hinges on an impenetrable conversation.

Along the way, the film has moments of bracing insight. With a sleek visual sheen, Cronenberg keeps the story moving, literally, although the incessant philosophical discussions wear us out as they travel in circles and riddles. Some of this is very funny, other scenes are provocative or disarming, playing with important issues while poking fun at a system that doesn't really work. But without any real kick, it's ultimately rather dull.
| | | |
| --- | --- | --- |
| | themes, language, sexuality, violence | 11.Jun.12 |