SHADOWS ON THE WALL | REVIEWS | NEWS | FESTIVAL | AWARDS | Q&A | ABOUT | TALKBACK

Shadows off the beaten path
Indies, foreigns, docs, videos, revivals and shorts...
On this page: BALLROOM RULES | LOVE FREE OR DIE
REVEALING MR MAUGHAM | VITO
< < D O C S > >
last update 27.Mar.12
See also: SHADOWS FILM FESTIVAL

R E V I E W B Y R I C H C L I N E
Ballroom Rules


dir-scr-prd Nickolas Bird, Eleanor Sharpe
with Anny Salerni, Marsia Bergh, Louise Akenson, Grant Smallacombe, Adrian Smith, Caro Clark, Bridget Roberts, Tania Griffiths, Eleanor Sharpe, Andrew Howlett, Neil Rosenfeld, Larry Clarke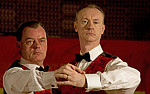 release UK Mar.12 llgff
12/Australia 1h17

---


While documenting the same-sex dancing scene in Australia, this gentle, intimate documentary explores big issues in the lives of people who face bigotry and stereotypes had-on. So the film offers a glimmer of hope for a more tolerant future.

In Australia, Dancesport officials not only refuse to recognise same-sex ballroom dancing, but they homophobically claim that it undermines morals. But a handful of dancers still want to compete, so they start training for both smaller local competitions and the 2010 Gay Games in Cologne. The film centres on contestants from Anny Salerni's Dance Cats Studio in Melbourne, Australia's only designated same-sex dance space.

While following four couples preparing for the Games, the doc explores the bigger issues through interviews with the dancers, teachers and officials. Along the way, the filmmakers observe that same-sex dancing is a bit more shocking because it puts sexuality right out there on view. But it also offers elements that are missing in traditional ballroom dancing, such as the freedom for dancers to swap roles on the dance floor.

As the film counts down to the Games, directors Bird and Sharpe keep the film informal and intimate, letting us see the relationships as warm, loving and of course normal. In the interviews (which touch on injuries, nerves, travel issues and even coping with cancer), we see how the participants find strength together to stand up against a system that refuses to accept or even acknowledge them. They don't care that they may not be world-class competitors, but they stick with it because they love it. And we get to know them so well that we can't help but root for them, even against the odds in the high-calibre competition.

And the more we see, the more the protestations of the Dancesport officials Howlett and Rosenfeld sound as desperately narrow-minded as the similar spoofery in Strictly Ballroom 20 years ago. But of course this isn't a comedy, and we begin to see these dancers as everyday people who don't quite realise that they're actually global pioneers. They're changing the system with a smile on their faces, exposing the world's bigotry for what it is. And even if it's marginal, the positive atmosphere in Cologne is both infectious and promising.
12 themes, some language, some violence

22.Mar.12

R E V I E W B Y R I C H C L I N E
Love Free or Die


MUST

SEE
dir Macky Alston
prd Sandra Itkoff
with Gene Robinson, Barbara Harris, Rowan Williams, Mark Andrew, Mary Glasspool, Giles Fraser, Bob Duncan, Tom Shaw, Eleanor McLaughlin, Otis Charles, Peter Beckwith, Jon Bruno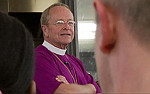 release US Jan.12 sff,
UK Mar.12 llgff
12/US 1h28

---
SUNDANCE FILM FEST


While this is a documentary about the first openly gay bishop in Christendom, it's also much more than that, exploring religion from a distinctly relevant perspective. It not only forces us to examine our opinions, but it moves us to tears.

At the 2008 Lambeth Conference, a once-a-decade gathering of the world's 800 Anglican bishops, only one bishop wasn't invited: the Rt Rev Gene Robinson, Bishop of New Hampshire. Clearly the leaders were trying to avoid ruffling feathers, although as Robinson notes, Archbishop Rowan Williams is a great manager, but he's not a leader who will take a stand for what is right. He also notes that "openly" is the operative word, because Robinson is certainly not the church's first gay bishop.

Robinson is a humble, likeable man who simply refuses to let his global notoriety change him. But he has refused to act like other gay clergy: lying that they live with a "roommate" or "assistant" while publicly denying who they really are. Robinson lives quietly with his long-term partner (Andrew), and both of them know that he is putting his life on the line for the truth.

The film is beautifully assembled as a series of informal interviews with people on all sides of the issue, although Robinson's effortlessly vigorous arguments blow everyone else out of the water, revealing the fact that it's their deep-seated fear driving them, rather than any real respect for the word of God. The filmmakers followed Robinson for more than two years, encompassing both Lambeth 2008 and the American Episcopal convention that approved the appointment of gay bishops and the blessing of same-sex couples in states where their marriage is legal.

The centre of Robinson's message is that marginalised people don't need tolerance: they need compassion, support and justice after years of oppression. It's a positive statement that Christianity (and any religion for that matter) is about love, not fear of someone whose sexuality or theology is different from yours. And he says this with more than his words, as we see him quietly spending time with a wide range of people on the fringe of society. Which looks rather a lot like what Jesus did in his day.
PG themes, some language
---
24.Mar.12 llgff

R E V I E W B Y R I C H C L I N E
Revealing Mr. Maugham


dir Michael House
prd David Bellos
with Selina Hastings, Armistead Maupin, Ronald Harwood, Alexander McCall Smith, Anthony Curtis, Neil Jenman, Akio Namekata, Matthew Hurt, Pico Iyer, Alan Furst, Camilla Chandon, Nicolas Paravicini

release UK Mar.12 llgff
12/UK 1h23

---


Even though he achieved huge success, prolific writer W Somerset Maugham was misunderstood because he was such an outsider. This comprehensive academic-style documentary traces his life and legacy with telling insight.

Born in 1874 France, "Willie" lost his parents before he was 10 and went to live with an unknown uncle in England. After a troubled childhood, he found freedom at university and decided to become a writer. But he was instead forced to study medicine, which gave him unusual insight into the human condition. When he finally started writing, editors and the public thought he wrote too freely about sex, so he turned to the theatre instead. And success there gave him the independence to return to writing novels.

Primarily narrated by biographer Hastings, the film is a series of rather sober interviews livened up by terrific archive photos and footage. What makes it interesting is the exploration of Maugham's refusal to tone down his material, grappling with themes that were far ahead of his time. He also wrote great roles for women at a time when this wasn't being done, although Harwood hypothesises that he was actually writing men's roles as women.

It's also fascinating that, despite his avant garde approach, he had no ambition to be a great writer; he simply wanted to earn a living and please his audience. Even so, it was the controversial, autobiographical Of Human Bondage that sparked his career as a novelist who grappled with universal themes in ways that transcend culture. Meanwhile, the film delves into Maugham's personal life, including the brief fling (and troubled marriage) that resulted in a daughter , as well as his 30-year relationship with Gerald Haxton, an extroverted American who helped Maugham gather material for his stories.

After Haxton's death, his partner Alan Searle connived to turn him against his daughter so he could inherit his fortune, leading to a miserable old age until his death at 91. Indeed, the documentary doesn't skip over any details, and this thoroughness might be a bit too much for most viewers, especially with the rather dry filmmaking approach. That said, it's a valuable document about a hugely influential author as well as the issues that surrounded his life.
PG themes, some suggestive imagery
---
23.Mar.12

R E V I E W B Y R I C H C L I N E
Vito


dir-prd Jeffrey Schwarz
with Vito Russo, Lily Tomlin, Jeffrey Friedman, Rob Epstein, Armistead Maupin, Larry Kramer, Michael Schiavi, Michael Lumpkin, Mark Thompson, Tommi Avicolli Mecca, Charles Russo, Phyllis Antonellis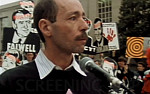 release US Oct.11 nyff,
UK Mar.12 llgff
11/US HBO 1h33

---
BERLIN FILM FEST

---
See also:
COMMON THREADS (1989)
THE CELLULOID CLOSET (1995)

This superbly well-made doc has an emotional sting in its tail that lingers long after the final credits. It tells the story of tenacious gay activist Vito Russo, who spearheaded causes before his time and changed the world in the process.

Noted journalist Russo was the first person to talk about how pop culture has dealt with sexuality and Aids. He took a stand when no one else would, helping launch the Gay Activists Alliance in 1969, taking action against discrimination at all levels of society. While working in a film archive, he started to study the kinds of films gay audiences loved as well as the history of gay themes in cinema, leading to his celebrated 1981 book The Celluloid Closet.

Filmmaker Schwarz packs this film with archive interviews with Russo, as well as photos from his entire life. These vividly show how, from an early age, Russo knew that he had no choice about his sexuality: so if it was natural, everyone who said it was evil was clearly wrong. As a young man he resented police persecution of gay men in New York, but he never considered this political until he confronted how society at large persecutes gay men in subtle but often deadly ways.

It's fascinating to see Russo take on the revisionist history of the American censorship code. Before it came into effect in 1933, cinema more accurately reflected cultural diversity, which then had to shift into subtext and innuendo. And this shadowy depiction had a profound effect on society, making homosexuals evil, un-American and destined to die. This led to a fear of sexuality on screen after the code ended in the 60s. And more than discovering this, Russo set out to change the attitudes.

With a fast-paced narrative, the film explores this struggle for equal rights in America. Russo's friends, relatives and colleagues provide context and personal insight, so when the story arrives at the dawn of Aids in the early 80s, the film turns hugely emotional. But even with death all around him, Russo boldly challenged public attitudes, launching Glaad to fight defamation and Act Up to change the system. So the emotional coda, after Russo died in 1990, is both provocative and deeply moving.
15 themes, language, disturbing imagery
---
7.Mar.12


< < D O C S > >
See also: SHADOWS FILM FESTIVAL

© 2012 by Rich Cline, Shadows on the Wall


HOME | REVIEWS | NEWS | FESTIVAL | AWARDS | Q&A | ABOUT | TALKBACK