---
BERLIN FILM FEST

See also:



Kuchu is a synonym for "queer" in Uganda, where homosexuality is punishable by life imprisonment and so-called Christian preachers call for people to rise up and kill anyone suspected of being gay. This sensitive, balanced documentary tells the stories of brave people who have dared to come out.

As bishops call for the death penalty, Ugandan government ministers draft a law that makes it a crime not to report someone you think is gay, even a child. Meanwhile, the editor (Muhame) of Rolling Stone newspaper publishes photos and addresses of anyone he thinks is gay, prompting mob violence. In the middle of this, David Kato decided to stand up against cruel discrimination. The first openly gay man in Uganda, he gathers a group of trusted friends around him, including Bishop Senyonjo, who is punished for demonstrating Christ's compassion.

The situation is so volatile that the film is often hard to watch. Especially since the filmmakers allow both sides to openly share their views. So when Muhame casually smiles while justifying murder, it's deeply upsetting. By contrast, Kato is a warm, intelligent man who boosts everyone he meets, even though he and those around him have experienced constant tragedy including police brutality, "curative" rapes and discrimination at every level of society. Their defiance at this injustice is inspiring. And it's no surprise that Kato's brutal 2011 murder opened a floodgate of international pressure.

Shot and edited with sensitivity, the doc captures the camaraderie of these likeable, quietly determined people. The filmmakers also let their opponents reveal their assured callousness as they shout about a "gay agenda" that doesn't exist, link homosexuals with terrorism and refuse to discuss the possibility that their theology is warped. As Senyonjo notes, St Paul clearly said that "in Christ there is no male or female, no slave or free: we are all one".

As difficult as it is to say "I am gay" in Uganda, accepting yourself is another thing, notes Jones. But you have to be yourself even if you lose your friends and family; there will always be people who love you for who you are. Even so, living without fear with the same rights as everyone else is still a dream in many countries around the world.
12 themes, language, violence
---
23.Oct.12

R E V I E W B Y R I C H C L I N E
Crossfire Hurricane


dir-scr Brett Morgen
prd Mick Jagger, Victoria Pearman
with Mick Jagger, Keith Richards, Charlie Watts, Ron Wood, Mick Taylor, Bill Wyman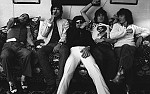 release UK 18.Oct.12,
US 15.Nov.12
12/UK 1h51

---


The Rolling Stones commissioned this film for their 50th anniversary, so it's not surprising that it never delves beneath the surface. Or that it only covers their first two decades before stopping abruptly (is part 2 coming?). That said, it's a fast-paced, entertaining trip backstage with the bad-boy band.

In the early 1960s, the Stones started as a blues cover band, building a London following before adopting their "anti-Beatles" identity as a band your parents hate. Raucous tours followed, accompanied by the usual quantities of sex and drugs. Guitarist Brian Jones left the band in 1969 and drowned less than a month later; his replacement Taylor left in 1974 to escape the drug scene. And the whole band went clean after Richards was arrested carrying heroin into Canada in 1977, which paved the way in the early 1980s for their biggest success.

The film ends here, skipping over the next 30 years of hits and misses. The only later performance is alongside the closing credits (taken from Scorsese's 2008 concert film Shine a Light). Instead, the filmmakers concentrate on the 60s and 70s with riotous backstage footage of the band and their groupies. And the on-stage footage is equally raucous, shot with hand-held home movie cameras from angles we've never seen before. This is mixed in with vintage TV interviews that capture the musicians' idiosyncratic personalities, especially Richard's dry sense of humour.

Like a DVD commentary, there's an audio voiceover recently recorded by the bandmates describing events and giving things a nostalgic spin. Some events are covered with remarkable detail, such as their notoriously harrowing free concert in Altamont. But while the cameras are free to explore the dressing rooms, we never follow them home. No, this is a doc about the band itself, not the members themselves.

As a result, the film feels oddly incomplete. Not just because it skips such a huge chunk of time, but because it never gets past the rock-star antics. Fans will love energetic performances of the hits as well as the chance to watch this previously unseen footage in a tight chronology, edited with a sparky style that reflects the band's anarchic spirit. Although with a doc so controlled by its subject matter, you start to wonder if they were actually as wild as their reputation suggested.
15 themes, language, nudity
---
18.Oct.12 lff

R E V I E W B Y R I C H C L I N E
London Babylon Babylondon


MUST

SEE aka: London: The Modern Babylon
dir-scr Julien Temple
prd Stephen Malit, Amanda Temple, Julien Temple
narr Michael Gambon
with Hetty Bower, Tony Benn, Ray Davies, Molly Parkin, Suggs, Brian Nicholson, Isaac Bigio, Michael Horovitz, Sam King, Alfred "Syco" Gordon, Michael Landy, George Melly, Leigh Bowery

release UK 3.Aug.12
12/UK BBC 2h08


Both a history lesson and a love letter to the eclectic British capital, Temple's kaleidoscopic documentary is infused with the resilient personality of Londoners themselves. It also uses a range of film stocks, music and poetry to take us on a thrilling, if slanted, trip through history.

At the turn of the 20th century, London was the capital of the largest empire the world has ever seen. But the past century has seen massive changes that have only augmented the city essence. Key events include two world wars, waves of immigrants, the emergence of cultural movements, bombings, strikes and financial booms and busts. All of this is witnessed through the eyes of 106-year-old Bower, whose vivid recollections sit alongside a wide range of Londoners through the years.

As usual, Temple cleverly edits fantastic newsreel footage with movie clips, present-day images and great music. He recounts events chronologically, but flickers back and forth in time as events echo each other. For example, the "London mob" bursts into civil disobedience every few years to protest something important, sometimes violently. There are also explorations of the changing fortunes of areas like the Docklands or Brixton, which was a hub of culture and transport before WWII, then hosted Britain's ugliest riots in 1981.

Through all of this, the soul of the city emerges in the offbeat ways diverse Londoners cope with contrasts: incredible wealth and crime-ridden poverty, years of war and prosperity, riots and celebrations, immigration and nationalism. But there are clear constants in transportation and culture. And Temple tips his hand by focussing on how the working class keeps the engine of the capital turning over the decades while struggling to find both work and suitable housing.

The film is a bit too long, and the anti-establishment message is sometimes heavy-handed, but even this sharply reflects the city's feisty cynicism. Along the way, Temple unearths some wonderful footage (including a 17-year-old Davy Jones, aka David Bowie, promoting The Society for the Prevention of Cruelty to Long-haired Men). And in the end, we begin to understand how London has developed into such a living, breathing hot mess. And maybe where it's going from here.
15 themes, language, some violence, nudity
---
30.Oct.12

R E V I E W B Y R I C H C L I N E
The Penguin King 3D


dir-prd Anthony Geffen, Sias Wilson
scr-narr David Attenborough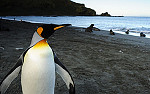 release UK 24.Oct.12
11/UK Sky 1h18


The simplistic, childish tone of this documentary is only mildly annoying. The real problem is that we have seen this same story so many times, from March of the Penguin to Happy Feet. At least the cinematography looks beautiful.

South Georgia is home to a vast colony of king penguins, who share the Antarctic island with seals and albatrosses but no humans (aside from camera crews). The film centres on a 4-year-old bachelor penguin who has just completed an epic three-year voyage with two cousins and is looking to fit back in with his colony. Attempts to woo a woman are interrupted by an attack of itching and a humiliating full-body moult. But he eventually spots a female, launches the courtship ritual and bonds for life. They divide the work: he guards the egg while she goes fishing, then she watches the young chick while he heads out. And both have to cope with constant threats from ruthless predators.

Attenborough's narration is aimed at very young viewers who will buy into the cute antics of our hero and his mate as well as scary attacks from orcas and killer birds. Indeed, some of the violence is startlingly grisly, but the narration goes overboard to turn natural predators into evil villains who are stalking "our chick" and his mother. Meanwhile, the filmmakers add human emotions to the situation with gratuitously manipulative editing and a cheesy, surging score.

Clearly made for television, complete with gaps for ad breaks and corny narrative punchlines, the film has an episodic structure with small adventures and moments of danger, plus some penguin poo and farting elephant seals to keep kids interested. At one point, our heroes visit a neighbouring colony of macaroni penguins who "live life at a faster pace," says Attenborough along with sped-up footage and jaunty music.

The spectacular landscapes are gorgeously shot in razor-sharp 3D both above and beneath the water. Intriguingly, for much of the film South Georgia isn't the icy wasteland that Antarctica is; it's bitterly cold but the penguins live on a rocky beach beneath grassy hills and jagged mountain peaks. Then winter snows are yet another threat to their life. Surely there are other animals with lifecycle stories that are equally as entertaining but haven't been told over and over again. But then they probably aren't as easy to shamelessly anthropomorphise as a penguin is.
U violence
---
24.Oct.12


< < D O C S > >
See also: SHADOWS FILM FESTIVAL

© 2012 by Rich Cline, Shadows on the Wall


HOME | REVIEWS | NEWS | FESTIVAL | AWARDS | Q&A | ABOUT | TALKBACK