dir-scr Emilio Estevez
prd David Alexanian, Emilio Estevez, Julio Fernandez
with Martin Sheen, Deborah Kara Unger, Yorick van Wageningen, James Nesbitt, Emilio Estevez, Tcheky Karyo, Angela Molina, Carlos Leal, Simon Andreu , Eusebio Lazaro, Antonio Gil, Spencer Garrett
release UK 13.May.11
10/Spain Icon 2h08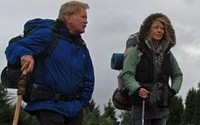 Take a hike: Sheen and Unger



---
TORONTO FILM FEST
R E V I E W B Y R I C H C L I N E

This thoughtful, openly emotive film resists cynicism due to its quiet honesty. As a story of self-discovery, it may seem a little simplistic, but the themes it grapples with along the way are genuinely challenging.

Tom (Sheen) is a California ophthalmologist whose only son Daniel (Estevez) dropped out of society in his late 30s to travel the world. Then Tom gets a call: Daniel has died on the Camino de Santiago (The Way of St James) in northern Spain. In France to collect the body, Tom suddenly decides to take the two-month pilgrimage himself, partly to understand his son better. Along the way he collects three companions who just won't leave him alone: a jaded Canadian (Unger), a too-cheerful Dutchman (van Wageningen) and a jagged Irishman (Nesbitt).

Tom's self-discovery is marked by key events that rattle him in a variety of ways. This is mainly seen in his interaction with his three fellow pilgrims, all of whom provoke reactions that are sometimes very dark. And there are also events along the way that test his resolve, most centring on the near loss of his rucksack, which contains Daniel's ashes. More subtle are the glimpses of Daniel along the way, as if Tom can feel his son's presence with him.

Performances from the entire cast are extremely natural, which nicely grounds the episodic structure. Sheen looks genuinely shattered through most of the film, as Tom would, and yet his steely undercurrents are strongly felt, both in his tenacity and the way he erupts when confronted. Watching him slowly relax into his own skin is remarkable. And the chemistry between the four walking pals is extremely strong, both in prickly altercations and moments of earthy camaraderie.

In the end, the story's structure works against it, as Tom's journey feels almost endless. The landscape is gorgeously filmed and edited, placing the cast in settings that create situations that feel more like documentary than drama. And while the main message is pretty obvious, it's the small revelations along the way that linger afterwards. If we're paying attention, these are the things that can actually force us to look at other people and the world around us in a new light.
| | | |
| --- | --- | --- |
| | themes | 1.Feb.11 |