dir-scr David Hare
prd David Barron, David Heyman
with Bill Nighy, Rachel Weisz, Michael Gambon, Judy Davis, Ralph Fiennes, Felicity Jones, Tom Hughes, Ewen Bremner, Saskia Reeves, Marthe Keller, Rakhee Thakrar, Richard Lintern
release UK 28.Aug.11 tv
11/UK BBC 1h40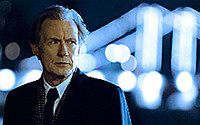 Secrets and lies: Nighy



---

R E V I E W B Y R I C H C L I N E

Exceptional acting and a smart script add spice to what's otherwise a fairly low-key political thriller that feels somewhat dated in its subject matter. But the strong personal drama makes it worth a look. As does the "don't trust the government" theme.

When the boss (Gambon) hands him a top-secret report, British Intelligence officer Johnny (Nighy) wearily reads it until he spots something on page 8 that could potentially topple the Prime Minister (Fiennes). Now everything's suspicious: his neighbour Nancy (Weisz) suddenly wants to befriend him, his daughter (Jones) is hanging out with a shady guy (Hughes), his journalist friend (Bremner) starts poking around, and the Home Secretary (Reeves) blows her top. Johnny knows he only has a few days to come up with a plan that must include his survival.

For his film-directing debut, writer Hare digs beneath headlines about secret prisons and torture, asking who knew that they existed while exploring the mutual mistrust between politicians and the public. While most filmmakers would ramp this up with grisly assassinations, explosive car chases and lots of things going bang in the dark, Hare deliberately remains in the real world. These are people who solve their problems using their brains and only resort to violence when everything else fails.

While this slow-burn approach may annoy multiplex audiences (indeed, the film debuts on TV in the UK), it's a joy to watch for thinking filmgoers. Without much visual flair, Hare still establishes a jazzy-smooth tone, which gives the slightly theatrical dialog space to resonate, even if it gets a bit preachy. So if the film never quite gathers a proper head of steam, the story is driving and involving, with some extremely sharp points to make and a seriously great cast.

Nighy, Gambon and Fiennes are masters of subtext, giving their characters all kinds of interesting edges. Weisz is also very good as the open-faced Nancy, who may or may not be up to something nefarious. And Davis (as Johnny's jaded colleague) steals every scene she storms into. It's pretty clear from the start that each character is hiding an important secret, and watching these things emerge is great fun, especially as Hare stirs comical banter, family drama and even romance in with the intrigue.
| | | |
| --- | --- | --- |
| | themes, language | 16.Jun.11 eiff |


Mike , USA:

"Thoroughly enjoyed it. A-list cast that delivers even when they each have only 2 or 3 scenes a piece. No car crashes, explosions, or gunplay here. With such a great cast, it's a shame the BBC didn't make this as a multi-part miniseries. The characters are so good, hope David Hare brings back as many of them as he can" (16.Sep.11)