dir-scr Woody Allen
prd Letty Aronson, Jaume Roures, Stephen Tenenbaum
with Owen Wilson, Rachel McAdams, Marion Cotillard, Michael Sheen, Kurt Fuller, Mimi Kennedy, Carla Bruni, Tom Hiddleston, Kathy Bates, Corey Stoll, Alison Pill, Adrien Brody
release US 20.May.11, UK 7.Oct.11
11/US 1h34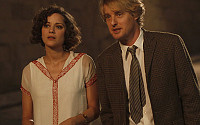 The good ol' days: Cotillard and Wilson



---
CANNES FILM FEST
R E V I E W B Y R I C H C L I N E

After a run of loose, uneven films, Allen hits the right notes in this funny, astute comedy about artistic creation and personal dreams. And Wilson turns out to be one of the best on-screen Allen surrogates in years.

Blocked writer Gil (Wilson) is visiting Paris with his wife Inez (McAdams) and her high-achieving parents (Fuller and Kennedy). When they run into Inez's know-it-all ex (Sheen), Gil starts having second thoughts about everything. He also begins to wish he'd lived in Paris in the artistic heyday of the 1920s, and is stunned one night to find himself in some kind of magical time-warp, rubbing shoulders with F Scott Fitzgerald (Hiddleston), Gertrude Stein (Bates) and Ernest Hemmingway (Stoll). He also begins to fall for Adriana (Cotillard), a muse for Picasso and Modigliani.

Intriguingly, Allen never over-eggs the fantasy elements, cutting in and out of them in a way that makes it clear that we shouldn't take them too seriously. This is a witty nod to the film's more interesting deeper plot, and it allows the magical realism to develop a hilariously farcical tone as Gil encounters a blinding array of artistic icons from Cole Porter (Yves Heck) to Salvador Dali (Brody).

Meanwhile, Allen and cinematographer Darius Khondji give the film a vivid visual style. An opening montage gorgeously explores Paris' picture-postcard beauty, while the 1920s scenes are rendered in a way that's both richly textured and unfussy. Even more impressive are some skilful long takes, such as a conversation at Versailles in which four characters engage in a lively, often ridiculous discussion that tells us more about the characters than we realise at the time.

And the cast is terrific. Owen Wilson plays the standard Allen character, a writer with a messy personal life who struggles against the pull of art and commerce. As the story progresses, Gil not only gets to indulge in his 1920s fantasy, but he's also confronted with a gentle moral conundrum in 2010. While scenes are packed with sparky, amusing characters, some gags go on a bit too long. But they at least keep us laughing. And despite the breezy tone, it's one of those rare films that's complex enough to reward repeat viewings.
| | | |
| --- | --- | --- |
| | themes, language, innuendo | 27.Jul.11 |