---
SUNDANCE FILM FEST

There's a zing of postmodern fun to be had while watching a film that documents itself being made. And while it's a clever look at the secret world of product placement, you never quite feel like the movie itself really gets up to speed.

In order to make a documentary about the shady world of brand integration in films and television, Spurlock decides to sell his new project to the highest bidders. And discovers that there's a parallel world of public relations, advertising, product specialists and neuro-marketers who make a lot of money doing this. After a slow start, sponsors climb on board, and Spurlock makes sure to keep their products on-screen as he conducts interviews with experts. But does this compromise his journalistic or artistic integrity?

Spurlock is a likeable character, always honest with us about what he's up to, so following him through this process has a strongly personal touch. We watch as he works out his own brand personality, makes hilarious pitches to executives and then cross-markets the film. All the way through, Spurlock walks the extremely fine line between making a documentary, finding the comedy in each situation, pulling the curtain back on a clandestine industry and of course advertising his sponsors.

And his questions become increasingly relevant to his own situation as a filmmaker: when does sponsorship become selling out? Will all of this mean that he loses control of his film? Is there ever truth in advertising? He also explores the nature of product placement, asking whether audiences know they're being sold something even as he is shamelessly hawking his sponsors' wares to his hapless interviewees.

In other words, while showing us what's going on, he reveals how this insidious process is woven into every layer of production and marketing. The way he pushes the various brands becomes an amusing running joke, while he gets telling insight both through experts and with vox pops in the streets. It's a funny, lively, expertly shot and edited film. And the only complaint is that there's no sting in the tail. Although you could argue that the entire film is the punchline.
PG themes, language
---
7.Jul.11

R E V I E W B Y R I C H C L I N E
The Interrupters


MUST

SEE
dir Steve James
prd Steve James, Alex Kotlowitz
with Ameena Matthews, Cobe Williams, Eddie Bocanegra, Tio Hardiman, Gary Slutkin, Caprysha Anderson, Mikey Davis, Latoya Oliver, Sheikh Rasheed, LaShawn K Ford, Mildred Williams, Earl Sayer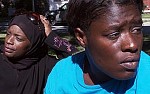 release US 29.Jul.11,
UK 12.Aug.11
11/US 2h24

---
SUNDANCE FILM FEST

This gripping and very long documentary traces a year in the life of a Chicago neighbourhood that's plagued by youth violence. And by focussing on charity workers working to interrupt the cycle, the film finds some real hope.

Gary Slutkin, a medical doctor who worked in Africa for 10 years fighting cholera and Aids, has applied the principles of epidemiology to tackling inner-city violence. His organisation CeaseFire hires former gang members as Violence Interrupters, working in the streets to encourage young people to stop killing each other. Ameena is the daughter of notorious gang leader Jeff Fort, Cobe was in and out of prison until having a son made him rethink his life, and Eddie is haunted by a murder he participated in at 17. All three are now making a positive difference in their communities.

Director James deploys a seamless fly-on-the-wall style, simply following these three workers into the streets where they talk with a variety of young people whose stories we also follow. There's 19-year-old Caprysha, who doesn't yet want to leave the drugs and violence behind. Latoya is in hiding from her duelling sons Kenneth and Bud. And the teenaged Mikey is just out of prison and determined not to end up back behind bars.

The urgent reality-show style of filmmaking puts us right in the middle of some remarkably intimate situations while really letting us get to know each person, Which acutely highlights the complexity of each situation. These children are being killed for no real reason, sparking gruesome revenge attacks. There's no thought about consequences, since surviving takes all of their attention. And the interrupters know that they walk a fine line: you can't mediate without confrontation.

The film touches on so many big issues that it's almost overwhelming. This isn't about addressing the causes of violence or gangs; it's about saving someone's life. It would certainly make an involving TV series, as this film follows both interrupters and the people they work with over the course of a year. And James' approach sharply captures the difficulty of the situation as well as a gritty and inspirational sense that perhaps the cycle can be broken one person at a time.
15 themes, language, violence
---
29.Jun.11

R E V I E W B Y R I C H C L I N E
Straight & Butch


dir-prd Butch Cordora
with Butch Cordora, Gervase Peterson, Rocco Ciarrocchi, Anthony Borzotta, Angelo DeLeone, Zach Brady, Adrian Abonce, Scotty Yelity, Duncan MacDonald, Tony Ward, Christopher Gabello, Leah MacDonald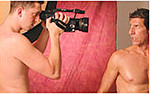 release US Jul.10 pqf
10/US 1h27


There's a big theme at the centre of this rather slight and inconsequential documentary: the awkward tension between gay and straight masculinity. And while some segments are entertaining to watch, there are only a few moments of insight.

Philadelphia local chat show host Cordora comes up with a high-concept calendar idea: 12 photos of him with another man, both naked, recreating iconic images. The hitch is that he is gay and all of his partners will be straight. And assembling this is a lot more difficult than he expects, as the men he talks to refuse to pose nude for a calendar, are afraid to be pictured with a gay man and certainly don't want to shoot these images outdoors in suburban neighbourhoods.

The film is essentially 12 segments featuring each month's model, as we see Butch recruit him, work with a photographer to come up with a concept and then set up the photos. Some of the images they create are extremely elaborate, and each segment is accompanied by to-camera commentary about how the participants reacted to the shoot. Several take place in full view of passersby, and some are much more obvious recreations of famous images (John Lennon and Yoko Ono, Cindy Crawford and KD Lang, the Beatles on Abbey Road) than others.

This is certainly an interesting idea for a calendar and a film. But early in this documentary, we realise that Cordora is making a big fuss about nothing. He hinges the whole film on the transgressive nature of nudity, but no one actually seems to mind at all. And even all of his worries about being arrested in public are unfounded, as no one flinches. This kind of makes the movie feel rather repetitive and pointless.

Thankfully, Cordora is engaging enough to keep us interested, and his interaction with the guys is often pointed and witty. But probing the participants a bit more rigorously about their thoughts and feelings would have given the film a kick, as would looking at other juxtapositions of gay and straight sexuality in popular culture. Cordora clearly just wanted to assemble a fun making-of doc, which this is, even if it essentially ignores the elephant in the room.
15 themes, language, nudity
---
3.Sep.11


< < D O C S > >
See also: SHADOWS FILM FESTIVAL

© 2011 by Rich Cline, Shadows on the Wall


HOME | REVIEWS | NEWS | FESTIVAL | AWARDS | Q&A | ABOUT | TALKBACK