---

Beautifully shot and edited, this documentary tells the powerfully resonant story of Nicaragua-based painter Jean Marc Calvet, tracing his astounding journey from rough streets in France to New York art galleries. And the central theme resounds: "Never believe you've played your last hand."

Jean Marc (Marco to his friends) tells his story to camera while retracing his steps. With disarming openness, he recounts each twist and turn in his life, blending in sharp humour and earthy emotion he describes his introduction to drugs and a horrific attack at age 15 after running away from his bickering parents. From here he gets into crime and worse, including a stint as bodyguard to a mob boss in Miami, whom he robs before fleeing to Costa Rica. There his experiences as a club owner and drug abuser nearly kill him. On the brink of death, he discovers the power of expression through painting.

Through all of this, Calvet yearns for the son he fathered in France after his stint in the Foreign Legion; he's wracked with guilt over abandoning his wife and child, and his pain fills his work. So with the cameras rolling, he decides to make contact, even if it means rejection. And the film's final third focuses on what Calvet knows doesn't deserve to be called redemption. But it's the only thing he can do.

Filmmaker Allan assembles this in a way that often feels harrowingly intimate. The scene of his epiphany in Costa Rica is very hard to watch, as Calvet narrates a period of paranoid violence and chaos that came from hard drug use. Much happier scenes with his wife and stepdaughter in Nicaragua provide contrast. Sure, Calvet looks like a beefy, tattooed and pierced bouncer, but we also see his tender soul. And we witness how he's unafraid to stare down his demons and open up about his horrible experiences and awful decisions.

As Calvet recounts each episode, the film goes through stages of comedy, tragedy, crime thriller, hellish horror and catharsis. And he's such a compellingly likeable man that we willingly experience everything along with him. Remarkably, Allan achieves this without mythologising Calvet or pumping the sentimentality. By simply letting us hear this man walking through his own life in such a frank, honest way, we are utterly gripped to every scene. And the emotional kick is pretty extreme for us too.
15 themes, language
---
15.Jun.11 eiff

R E V I E W B Y R I C H C L I N E
The Flaw


Markets, Money, Mortgages and the Great American Meltdown
dir David Sington
prd Stephen Lambert, Christopher Hird, Luke Johnson
with Robert Shiller, Robert Frank, Joseph Stiglitz, Andrew Luan, Dan Ariely, Robert Wade, George Cooper, Jim O'Neill, Nell Minow, Steve Pennington, Sarah Ludwig, Ed Andrews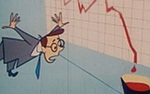 release US Jan.11 sff, UK 3.Jun.11
11/UK 1h18

---
SUNDANCE FILM FEST

The title of this America-centric documentary refers to the flawed belief that markets can increase in value indefinitely. Besides violating the laws of nature, this is so clearly fiction that we hardly need a movie to tell us. Even so, it's a lucid, gripping doc.

At a Congressional financial hearing, Alan Greenspan admitted that there was a defect in his theory that markets would function better if unregulated, because people turned out to be untrustworthy. And also because the hypothesis that the market determines fair value has actually resulted in unfair competition. The film traces various bubbles, including the build-up to the crash of 1929, the stock market in the 90s and the events of 2007, noting that property booms (like in the 20s and 00s) are far more dangerous, because they involve so much debt.

It also explores why the 50s is seen as America's golden decade, when people had money to make their lives better. This was a time when then gap between the rich and poor was at its smallest, so everyone was prospering. By contrast, the 2000s were like the 20s, with much greater income inequality, higher debt and prosperity limited to bankers. Average people had to borrow money for bigger houses to keep up with the wealthy and have better schools for their kids. So money was transferred from people who couldn't afford it to people who couldn't spend it.

The film is nicely shot and edited, with a snappy score and witty vintage cartoon clips. Besides being amusing, the cartoons are hugely informative, as are graphics that put the situation into clear context. Interviewees - bankers, experts, developers, estate agents - are cogent and engaging, holding our interest by making everything relevant.

Seeing just how banks used the system to manipulate and deliberately rob and ruin average people is fascinating (and horrifying), although director Sington gets bogged down in the details. In the end, the most telling point is that the standard of living over the past 30 years has decreased for everyone except those at the very top. So if capitalism is only creating wealth for very few people, it's no longer working.
U themes
---
30.May.11


< < D O C S > >
See also: SHADOWS FILM FESTIVAL

© 2011 by Rich Cline, Shadows on the Wall


HOME | REVIEWS | NEWS | FESTIVAL | AWARDS | Q&A | ABOUT | TALKBACK