dir Miguel Arteta
scr Phil Johnston
prd Jim Burke, Alexander Payne, Jim Taylor
with Ed Helms, John C Reilly, Anne Heche, Sigourney Weaver, Isiah Whitlock Jr, Stephen Root, Kurtwood Smith, Alia Shawkat, Rob Corddry, Mike O'Malley, Inga R Wilson, Mike Birbiglia
release US 11.Feb.11, UK 29.Apr.11
11/US Fox 1h27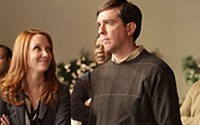 Fish our of water: Heche and Helms


---
SUNDANCE FILM FEST
R E V I E W B Y R I C H C L I N E

This goofy fish-out-of-water comedy is deeply endearing. As it follows its central character on a clumsy voyage of discovery, we can't help but laugh even as we try not to recognise ourselves in him.

In Brown Valley, Wisconsin, Tim (Helms) is an earnest mid-30s insurance salesman in love with his 7th-grade teacher (Weaver), who's only using him for sex. Oblivious to the moral failings of people around him, Tim heads to an insurance convention in Cedar Rapids, the biggest city he's ever seen. There his worldview is smashed by the outrageous antics of his colleagues, including party boy Dean (Reilly), married but flirty Joan (Heche) and repressed nice guy Ronald (Whitlock), as they all contend with insurance president Orin (Smith) for coveted Two Diamonds status.

The film's low-key humour may only gurgle over into laugh-out-loud hilarity a few times (like the scavenger hunt sequence), but the grin never leaves our faces. Even if it's a somewhat uncomfortable smile as we watch this naive man stumble unprepared into the real world. Tim is thrilled by everything he encounters, even as he sees danger on every side and struggles with a series of very awkward encounters (like running into Orin naked in the hotel gym). Eventually his principles about alcohol, sex, drugs and bribery are challenged to the breaking point.

Essentially, the film's theme is that adopting other peoples' principles means nothing until you strip them away and rebuild them for yourself. And the filmmakers cleverly infuse this strong statement into the superficial on-screen silliness. Helms is terrific as the decent guy who learns to let his hair down, and he plays beautifully opposite the more scene-stealing Reilly, the deadpan Whitlock and especially a lively, sexy Heche. All of these characters are essentially stereotypes, but they deepen and twist along the way.

Like the dopey younger brother of Up in the Air, this is a breezy exploration of American corporate culture. In this case, it's Midwestern Christianity that infuses every gathering, and this is something screenwriter Johnston subtly skewers as he contrasts Tim's moral simplicity against everyone else's double standards. And watching him find an even more sure footing is quietly exhilarating.
| | | |
| --- | --- | --- |
| | themes, language, sexuality, drugs | 26.Feb.11 |