dir Niall MacCormick
scr Tamzin Rafn
prd Adrian Sturges
with Jessica Brown Findlay, Felicity Jones, Sebastian Koch, Julia Ormond, Peter Vaughan, Harry Treadaway, Thomas Brodie Sangster, Alexis Zegerman, Mark Ryder, Louisa Bawden, Kenneth Collard, Chandra Ruegg
release UK 14.Oct.11
10/UK CinemaNX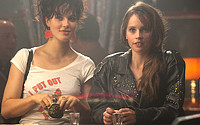 Girls' night out: Brown Findlay and Jones



---

R E V I E W B Y R I C H C L I N E

Beautifully filmed and acted, but lacking a central perspective, this gentle comedy-drama has some nice points to make about freeing ourselves from the things in the past that weigh us down (the hint is in the title). But the lively characters would have been more involving with some focus to the narrative.

Jonathan and Joa (Koch and Ormond) constantly bicker as they run their seaside B&B, mainly because they have failed careers as an author and actress, respectively. Meanwhile, daughter Beth (Jones) is preparing for her Oxford entrance interview. Enter a new cleaner, 17-year-old Emilia (Brown Findlay), who befriends Beth and shows her that there's more to life than studying. But Emilia's relentless flirting also distracts Jonathan from his writing. And as the potential for trouble rises, everyone will need to realise that who they are has nothing to do with their pasts.

Filmmaker MacCormick uses the setting extremely well, as the rambling B&B almost becomes a character. But the problem is that none of the characters is actually the protagonist. Technically, the story is told from Beth's point of view, but the film seems just as distracted by Emilia as everyone else, following her home to get the rather intensely emotional story of her life with her grandfather (Vaughn), which sits at odds with the sexier, funnier look at Emilia's impact on Beth and her family.

Part of the problem is that, as played by the gifted Brown Findlay, Emilia lights up the screen. She's a terrific tease, stirring trouble everywhere she goes, often without even realising it. Jones gives Beth a wonderfully engaging intelligence and charm, and both Koch and Ormond make the most of characters who could be simple stereotypes. But without a centre, the film is comical without being funny and dramatic without being emotional.

Fortunately, the strong cast and skilful production values keep us interested. Even if we don't really care where the plot is going, we're seduced by Emilia along with everyone else on screen. And her struggle to maintain relationships is compelling to watch. In the end, there's even a strong message about how difficult it is to escape expectations, and how facing the truth is an essential part of growing up.
| | | |
| --- | --- | --- |
| | themes, language, sexuality | 17.Jun.11 eiff |