dir John Curran
scr Angus MacLachlan
prd David Mimran, Jordan Schur, Holly Wiersma
with Robert De Niro, Edward Norton, Milla Jovovich, Frances Conroy, Peter Lewis, Sarab Kamoo, Dave Hendricks, Greg Trzaskoma, Rachel Loiselle, Sandra Love Aldridge, Enver Gjokaj, Pepper Binkley
release US 8.Oct.10
10/US 1h45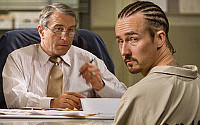 Please release me: DeNiro and Norton


---
TORONTO FILM FESTIVAL
R E V I E W B Y R I C H C L I N E

Dark and disturbing, this drama holds our interest due to the strong acting and provocative issues swirling around in the story. But it's a little heavy-handed in its desire to convey something important.

After years of marriage to the patient, self-medicating Madylyn (Conroy), Jack (De Niro) has subdued his inner demons in his by-the-book work as a parole officer. But just a month before retirement, he starts interviewing Stone (Norton), a fast-talking, hard-thinking inmate whose sexy wife Lucetta (Jovovich) is willing to do anything to get her man out. The problem is that, while Stone is going through a spiritual epiphany, he's also prying open Jack's dark side. And Jack isn't ready to face the monster he used to be.

Curran's direction is skilled and artful, with lush cinematography and sharp editing. But everything is tinged with obvious symbolism as the characters drift to the breaking point. Jack continually listens to Christian talk radio, which becomes a kind of soundtrack to the film, both emphasising his faith and exposing how religion isn't much more than an alibi for him. And similar revelations apply to all four central characters.

Fortunately, the actors carry off these weighty scenes with hints of black humour and glimpses of their lives outside the script's claustrophobic drama. It's been ages since De Niro played such a believable everyman, although perhaps Jack's slide into darkness would have carried more punch without the prologue in which we clearly see who he really is. But his scenes with Conroy bristle with real-life companionship, and it's riveting to watch that quietly shift to something much more agonising and truthful.

By contrast, Jovovich jolts the film with flashy menace. We quickly become terrified of what Lucetta's capable of doing for her man. But this is really Norton's show, and he gives Stone a rippling wave of moodiness that keeps us completely off-balance. We're never quite sure what he's up to, and we can't take our eyes off him. Which kind of describes the whole film. So if it never quite comes into focus, despite Curran's guiding hand, at least it's not one of those movies you can easily get out of your head.
| | | |
| --- | --- | --- |
| | themes, language, violence, sexuality | 15.Dec.10 |