dir Vincenzo Natali
prd Steven Hoban
scr Vincenzo Natali, Antoinette Terry Bryant, Doug Taylor
with Adrien Brody, Sarah Polley, Delphine Chaneac, Brandon McGibbon, Simona Maicanescu, David Hewlett, Abigail Chu
release US 4.Jun.10, UK 23.Jul.10
10/Canada Warner 1h44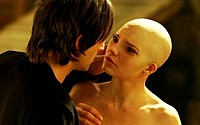 Are you my daddy? Brody and Chaneac


---
SUNDANCE FILM FEST
R E V I E W B Y R I C H C L I N E
Sleek and scary, this bio-thriller has plenty of yuckiness to keep genre fans happy, but it layers in all kinds of interesting themes and character details to lift it far above most of these films. And the terrific cast helps as well.

Clive and Elsa (Brody and Polley) are biochemists working for a monolithic pharmaceutical corporation, splicing together animal DNA to find proteins that can treat diseases. When their latest experiment successfully produces Fred and Ginger, a pair of living creatures in a new blob-like species, the company boss (Maicanescu) tells them to now focus on finding something that will make money. But Elsa continues in secret to create a human hybrid, despite Clive's moral hesitation. Keeping a project like this secret isn't easy, but containing it proves to be the real challenge.

Natali takes a refreshingly subtle approach to the effects, never letting them take over the movie. The rapidly aging hybrid Dren (Chu, then Chaneac) is almost oddly believable simply because she's played with such pure physicality by real actresses and only a few significant digital enhancements. And it also helps that Brody and Polley give full-on performances as people who fully accept Dren as a sort of daughter surrogate. They also continually hint at dark corners in their relationship, which makes this much more involving than most genre movies.

These more serious edges make the gross-out factor feel that much more unexpected and repulsive, which is a very good thing. And even if the story itself has a nagging predictability, there are some seriously nasty plot turns coming that are more than a little disturbing. In other words, there's almost nothing about this film that could have come from a Hollywood studio.

As he did with Cube and CYPHER, Natali approaches the standard thriller formula with confident camerawork and sharp editing that make the film look much more expensive than it probably was. More crucially, he fills even this rather dopey movie with underlying intelligence and a bracing vein of ironic black humour. He also touches strongly on the moral issues without preaching. And this more fully formed style of filmmaking keeps us constantly off-balance. It also makes the movie rather a lot of fun to watch.
| | | |
| --- | --- | --- |
| | themes, language, violence, sexuality | 30.Jun.10 |