dir-scr Adam Green
prd Peter Block, Cory Neal
with Emma Bell, Shawn Ashmore, Kevin Zegers, Ed Ackerman, Rileah Vanderbilt, Kane Hodder, Adam Johnson, Chris York, Peder Melhuse, Will Barratt, Joe Lynch, Adam Green
release US 5.Feb.10, UK 24.Sep.10
10/US Anchor Bay 1h34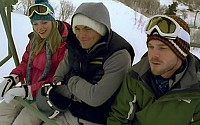 Riding high: Bell, Zegers and Ashmore



---
SUNDANCE FILM FEST
R E V I E W B Y R I C H C L I N E

As far as claustrophobic, high-concept B-movie thrillers go, this is pretty entertaining, throwing out logic in lieu of rampant, grisly tension. It's also extremely well-shot, making the most from its limited setting and three-person cast.

Joe (Ashmore) isn't hugely thrilled that his best pal Dan (Zegers) has invited his girlfriend Parker (Bell) along for a day of skiing. But she comes in handy when they need to charm the chairlift operator (Ackerman) into giving them a free ride. On the other hand, on their last trip up the mountain the lift is switched off for the week, and they're stranded in the chair. With a storm rolling in. And wolves braying for blood beneath them.

Yes, the main hook here is to get us asking, "What would I do?" Even though the scenario is hugely improbable (there seem to be no safety checks at all on this ski run), the film grips us with that simple question as these three smart, young people try to figure a way out of the situation. Along the way, there are a couple of massive plot holes that remind us that this really could never happen. Or could it?

Bell, Ashmore and Zegers do a lot more than expected with their characters, and it helps that Green's screenplay builds a lot of subtext in the setup, establishing tensions and loyalties between them, as well as little jokes and quiet understandings. The actors play these subtleties extremely well, and this goes a long way to keep us from getting bored. Even when one of them does something uncharacteristically stupid (like leaving a bare hand on an icy metal bar), we kind of go with it.

As a director, Green inventively keeps the camera moving, using the chair's position high in the air to maximum effect as the camera glides around them, letting us feel their isolation and vulnerability. And he also merrily indulges in a couple of extremely grisly moments that will have genre fans squealing in grossed-out delight. These things make the film great fun to watch, even as the nagging contrivances of the plot keep the premise from being quite as chilling (sorry) as it should be.
| | | |
| --- | --- | --- |
| | themes, violence, language | 6.Aug.10 |