dir-scr Jay Duplass, Mark Duplass
prd Michael Costigan
with John C Reilly, Jonah Hill, Marisa Tomei, Catherine Keener, Matt Walsh, Diane Mizota, Kathy Ann Wittes, Kathryn Aselton, Jamie Donnelly, Tim Guinee, Steve Zissis, Charlie Brewer
release US 18.Jun.10, UK 10.Sep.10
10/US Fox 1h31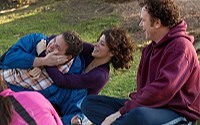 Mama's boy: Hill, Tomei and Reilly



---
SUNDANCE FILM FEST
R E V I E W B Y R I C H C L I N E

This twisted variation on the romantic-comedy takes a sharply funny look at male relationships. And Reilly and Hill get to shine in extremely vivid characters that keep us both laughing and cringing with fear over what might happen next.

After seven years, John (Reilly) still hasn't got over the break-up of his marriage to Jamie (Keener), but now that she's marrying Tim (Walsh) he really should move on. At a party, he meets Molly (Tomei), an improbably hot woman who actually seems to like his goofy behaviour, and their relationship gets serious very quickly. But Molly's 21-year-old son Cyrus (Hill) isn't quite ready for his mother to settle down with another man and launches a silent campaign to scupper the romance.

While Tomei is terrific as a doting single mum who has sacrificed her life to raise a quirky, bright son, Molly essentially exists in the film's margins. This is a two-hander about the relationship between John and Cyrus, with the strong personalities of Reilly and Hill holding it together. Yes, the roles are perfect for these actors, who channel their usual personas into these characters with impeccable comedic and dramatic timing.

Both of these guys are essentially man-children, and the only advantage John has is his age, which provides him a bit more maturity. But the subtle and underhanded attacks he suffers from Cyrus would test the patience of a saint, mainly because they play to Molly's maternal instincts. But the filmmakers cleverly keep the film evenly balanced and full of surprises; we're on John's side, and Cyrus is clearly a sociopath, and yet we sympathise with both of them.

This refusal to turn Cyrus into a villain makes the film a refreshing spin on the genre, because it breaks from the rom-com formula to find a more interesting path through the conflict. In the end, it feels perhaps a bit lightweight, never quite getting to the bottom of the issues it raises, but it's so strikingly well-played that it holds us strongly with its offbeat style of comedy, emotion and suspense. And perhaps the film's biggest strength is its ability to keep us almost as off-balance as John as to where the events are heading.
| | | |
| --- | --- | --- |
| | themes, language, innuendo | 5.Aug.10 |