dir Hideo Nakata
scr Enda Walsh
prd Laura Hastings-Smith, Alison Owen, Paul Trijbits
with Aaron Johnson, Imogen Poots, Matthew Beard, Hannah Murray, Daniel Kaluuya, Megan Dodds, Michelle Fairley, Nicholas Gleaves, Jacob Anderson, Tuppence Middleton, Ophelia Lovibond, Richard Madden
release UK 22.Dec.10
10/UK 1h37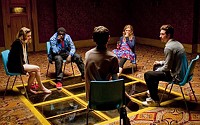 Cyberworld: Poots, Kaluuya, Beard, Murray and Johnson

---
CANNES FILM FEST
R E V I E W B Y R I C H C L I N E
There's a great idea here, but this awkward and dated film struggles to bring the cyberspace experience to life in the form of a gritty teen thriller. The result is intriguing but never as scary or emotional as it's trying to be.

William (Johnson) is a troubled rich kid in North London who strains against the success of his novelist mother (Dodds). Obsessed with suicide, he spends his hours in online chatrooms, creating one that attracts four members: equally bored rich kid Eva (Poots), shy and lonely Jim (Beard), needy Emily (Murray) and Mo (Kaluuya), who struggles with unwanted urges. But it soon becomes clear that William is a predator who's out to unsettle and derail everyone around him. Will they catch on soon enough to stop his nefarious plan?

Director Nakata takes a strikingly visual look at web chat, setting it as an endless hallway lined with rooms that promise both new experiences and safe spaces for like-minded people. Perhaps this approach comes from Walsh's source stage play, although Nakata augments things with cool-looking effects while inventively flicking back and forth between the online and offline worlds. And the talented young cast members are all able to convey this duality in sharp, visceral ways.

But very early on, the imagery starts to feel corny and obvious, not to mention a bit perplexing in its inconsistency. Settings shift and change with little logic, while the filmmakers strain to connect abstract themes with physical props. Meanwhile, Nakata directs the actors to smirking, sassy performances. this means there isn't a single likeable character, so it's not easy to care what happens to them in either the cyber or real worlds.

It also doesn't help that, in contrast to the heightened acting and whizzy imagery, the dialog sounds flat and uninteresting, never getting beneath the surfaces of the characters or situations. It's shiny and energetic, but essentially empty, with each character bearing the weight of some Big Important Issue that feels more like a movie theme than a real situation. So when the plot shifts into a thriller, it feels melodramatic and simplistic. And as things crank up for a horror-style climax, there's no suspense or emotion at all.
| | | |
| --- | --- | --- |
| | themes, language, violence | 1.Nov.10 |