dir Anton Corbijn
scr Rowan Joffe
prd Anne Carey, George Clooney, Jill Green, Grant Heslov, Ann Wingate
with George Clooney, Violante Placido, Thekla Reuten, Johan Leysen, Paolo Bonacelli, Filippo Timi, Irina Bjorklund, Samuli Vauramo, Anna Foglietta, Giorgio Gobbi, Silvana Bosi, Antonio Rampino
release US 1.Sep.10, It 10.Sep.10,
UK 26.Nov.10
10/Italy Focus 1h45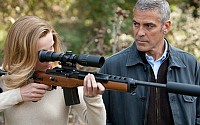 Ladies' man: Clooney with Reuten (above) and Placido (below)

---

R E V I E W B Y R I C H C L I N E

Like its central character, this film is almost painstakingly meticulous in the way it sets up each scene. And while it feels like nothing much is happening, there's a lot going on under the surface, and a real sense of growing suspense.

No one really knows Jack (Clooney). Or maybe his name is Edward. Some call him Butterfly, and he's clearly a ruthlessly efficient man who leaves little to chance. An expert in customised guns and ammunition, he's hiding in an Italian village from some nasty Swedes. There he's making a rifle for Mathilde (Reuten) while befriending a priest (Bonacelli) and starting a tentative relationship with local prostitute Carla (Placido). But he doesn't trust anyone, and starts to worry whether he'll survive this job.

Corbijn has a remarkable eye, so the movie looks gorgeous, with painterly cinematography by Martin Ruhe and direction that captures scenes with encompassing anglesthat vividly echo Jack's consuming paranoia. The more we learn about him, the more we see how these events unsettle his ordered life: he's on the run, forced to work too quickly and unsure who's actually out to get him. He knows he shouldn't make friends, but craves human contact.

Amid the scripts occasional red herrings, the sense of place and pace feel thoroughly authentic. Clooney gets the chance to be more reticent than usual, and he pulls it off perfectly. His interaction with both women is a bundle of suggestion, as all three clearly bring hopes and secret agendas into relationships. Placido is especially engaging as we watch her warm to Jack's prickly personality; Reuten's character is both sketchier and more unpredictable.

If there's any complaint it's with the tempo, as the narrative moves with extreme deliberation, never breaking loose beyond a couple of quick-action moments. There are also a couple of clunky plot points that feel somewhat contrived, as well as a generally open-handed structure that leaves us feeling that something is missing from this story. Maybe that's a sense of history, as no one here seems to have one. But then, as the priest tells Jack, "You are American; you think you can escape history."
| | | |
| --- | --- | --- |
| | themes, language, violence, sexuality | 1.Oct.10 lff |