dir-scr Quentin Tarantino; prd Lawrence Bender
with Brad Pitt, Christoph Waltz, Mélanie Laurent, Diane Kruger, Michael Fassbender, Daniel Brühl, Eli Roth, Til Schweiger, Martin Wittke, Sylvester Groth, Mike Myers, Rod Taylor
release UK 19.Aug.09, US 21.Aug.09
09/US Universal 2h28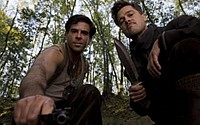 On the hunt: Roth and Pitt (above), and Waltz (below)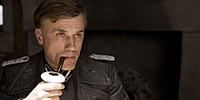 ---
CANNES FILM FESTIVAL
---
R E V I E W B Y R I C H C L I N E

Finally turning his hand to the war-movie genre, Tarantino unsurprisingly pays homage to classic B-movies. And even though it's long and indulgent, this is a deeply entertaining romp, crafted to perfection by Tarantino and his amazing cast.

German Col Landa (Waltz) is notorious in Nazi-occupied France as a "Jew hunter", but the young Shosanna (Laurent) has slipped through his fingers. Years later, she's running a Paris cinema and planning outrageous revenge against the Nazi high command who will be attending a premiere starring a famed war hero (Bruhl). Meanwhile, American Lt Aldo Raine (Pitt) has challenged his team of Jewish commandos to bring home 100 Nazi scalps each. And their operation is about to converge on Shosanna's cinema, thanks to a German actress double-agent (Kruger) and a British spy (Fassbender).

Tarantino directs with a wonderfully sure hand, as each scene oozes filmmaking confidence. It's skilfully written and performed down to the tiniest details. Scenes are allowed to play out in their own time; some feel a bit meandering as a result, but the snappy dialog allows for big surprises as each situation progresses, building tension to almost unbearable levels before the next shocking turn of events. Each scene gets bigger and better, right to the astonishing finale, which keeps us gasping right into the credits.

Performances are terrific across the board. Pitt is a bit cartoonish with all that Southern bluster, but his Italian disguise is priceless. And all of his "basterd" cohorts have vivid personalities of their own; Schweiger is the standout as the twitchy Hugo. There are also are terrific female roles for Laurent and Kruger, both of which go places we could never predict. And Wittke and Groth are gleeful scene-stealers as Hitler and Goebbels.

But none of these actors can even begin to compete with the amazing Waltz, who gets the film's most complex and unnerving role as a laughing monster. Or maybe he's a monstrous clown? Either way, he holds the film together with an electric performance. Through all of this, Tarantino combines sharp inventiveness with knowing nods at film history. Through the appalling grisliness and hilarious irony, we are drawn to characters who feel fully formed. And even if some of their dialog wanders off-topic, it's so enjoyable that we don't mind at all.
| | | |
| --- | --- | --- |
| | themes, language, strong violence, sexuality | 22.Jul.09 |