dir Jack Gold
scr Philip Mackie
with John Hurt, Liz Gebhardt, Patricia Hodge, Colin Higgins, John Rhys-Davies, Roger Lloyd Pack, Adrian Shergold, Stanley Lebor, Katharine Schofield, Lloyd Lamble, Joan Ryan, Quentin Crisp
release UK 17.Dec.75
75/UK Thames 1h17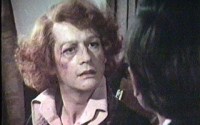 Beaten and bruised: Hurt
---


R E V I E W B Y R I C H C L I N E

It's fascinating to revisit this 1975 TV movie, watching the young John Hurt completely disappear into his performance as the flamboyant Quentin Crisp (who appears to introduce the film). The filmmaking is rather simplistic, but Hurt's performance and the issues the film raises are deep and provocative.

Born in 1908, Quentin Crisp (Hurt) grew up being himself, and unapologetically so. As an effeminate man wearing makeup, luridly dyed hair and flowing clothing, he was courting danger wherever he went. Especially since homosexual activity was still a criminal offence in Britain at the time. But he discovers kindred souls in London's cafes and streets and never bows to the taunting of homophobes, who sometimes turned very violent. He has long relationships with a few men (Higgins, Rhys-Davies, Lebor), but comes to realise that his dream "big dark man" will never materialise.

What makes this story worth seeing--and still timeless and important--is Crisp's refusal to play any game when it came to who he was. He simply put himself out there and said, "This is me, love it or hate it," and then took what came to him as a result. But along the way he made some extremely loyal friends and discovered the joys of exhibitionism (the title refers to his work as a model in art classes). The film also traces several striking events in his life, most notably his brazen approach to the military at the start of the war and then an amazing court case when he was charged with public indecency but essentially proved that he police had entrapped him and lied, all while still openly proclaiming his sexuality.

Crisp's quotable aphorisms fill the dialog, and Hurt has a great time delivering each witty, cheeky line. The result is often hilarious, and also surprisingly emotional. And Hurt gets so deep into the role that it takes the breath away. His performance, combined with the bold approach to issues of prejudice and violence, still feel fresh now, even if the movie has a cheesy 1970s TV tone. But it's Crisp's raw honesty that shines through; even all these years later, Hurt's performance and Crisp's observations are far ahead of their time.
| | | |
| --- | --- | --- |
| | themes, violence, innuendo | 26.Mar.09 |