dir Jon Amiel
scr John Collee
prd Jeremy Thomas
with Paul Bettany, Jennifer Connelly, Jeremy Northam, Benedict Cumberbatch, Toby Jones, Jim Carter, Martha West, Bill Patterson, Harrison Sansostri, Teresa Churcher, Pauline Stone, Zak Davies
release UK 25.Sep.09
09/UK BBC 1h38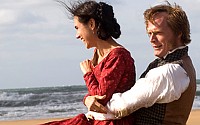 Facing a sea-change: Connelly and Bettany



---
TORONTO FILM FEST
R E V I E W B Y R I C H C L I N E

In tackling the story of what's been called "the biggest single idea in the history of thought", the filmmakers offer a fresh angle on a controversial topic. And it's an imaginative, human approach that brings it vividly to life.

In the mid-1800s, Charles Darwin (Bettany) faces a huge crisis: struggling after the death of 10-year-old daughter Annie (West), he's at odds with his wife Emma (Connelly) and his own Christian beliefs due to the results of his study of variations in species over time. Paralysed by what this will do to his marriage and his faith, he locks his research into a box. But swirling memories of Annie, encouragement from his friends (Cumberbatch and Jones), physical illness and marital strain force him to confront something he can no longer deny.

Based on Annie's Box, Randal Keynes biography of his great-great-grandfather, the film keeps the story intensely personal, focussing on Darwin's internal quandary. Collee's script cleverly weaves together events over two decades, mainly in the years before On the Origin of Species was published in 1859, but also including glimpses of Darwin's earlier experiences on the Beagle expedition, which gave him the spark of an idea for his theory.

It's a delicate balancing job that really pays off dramatically, focussing tightly on the characters as they deal with the growing storm of potential controversy around them. In this sense, it's a remarkably strong examination of a resilient marriage, and it's beautifully played by both Bettany and Connelly, who channel their real-life relationship into something both playful and darkly shaded on-screen. Opposite them, the excellent supporting cast seems almost simplistic, from Northam's narrow-minded minister to Jones' strident rabble-rouser.

Amid this, Amiel deepens the story with telling flashbacks, dreams, time-lapse sequences and beautifully re-enacted bedtime stories. And the unfussy design realistically captures the period without distracting us from the central drama. All of this flows together with a remarkable fluidity, capturing the idea that there must be balance in everything--nature, marriage and especially between science and religion. In the end, it's the emotions that linger with us, as the film makes a powerful point that telling and accepting the honest truth is often wrenchingly hard to do.
| | | |
| --- | --- | --- |
| | themes, some grisliness | 14.Jul.09 |