dir-scr Alex & David Pastor
with Lou Taylor Pucci, Chris Pine, Piper Perabo, Emily VanCamp, Christopher Meloni, Kiernan Shipka, Ron McClary, Mark Moses, Dylan Kenin, LeAnne Lynch, Jan Cunningham, Mary Peterson
release US 4.Sep.09, UK 11.Dec.09
09/US Paramount 1h24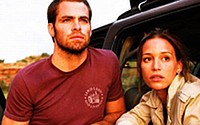 The future looks bleak: Pine and Perabo



R E V I E W B Y R I C H C L I N E

Well-made but not particularly inventive, this post-apocalyptic thriller is like a college road movie crossed with Mad Max. The cast is much better than this thin script deserves, but the film does generate some great jolts.

Brainy Danny (Pucci) and his more action-oriented brother Brian (Pine) are driving through Colorado with Brian's girlfriend Bobby (Perabo) and their friend Kate (VanCamp) when they encounter a man (Meloni) who's trying to get his sick daughter (Shipka) to a clinic. She has the highly contagious disease that has killed off almost everyone, so extreme measures are needed to prevent infection. As they continue across the Southwest, heading for a Gulf Coast beach they remember from childhood, they encounter various other survivors and are forced to make some brutal decisions.

The best thing about this film is the way the filmmakers focus on the characters rather than the plot. As it continues, the story becomes less about the destination and more about the journey. This is what makes the film well worth watching, as these young people face some terrifying situations that strain their relationships and also push them to look inside themselves. And the central foursome is well up to the challenge, creating believable, sympathetic characters even when they do stupid, self-absorbed things.

So it's a shame that the film isn't tighter than this. While it's technically skilful, with urgent camerawork and editing and some genuinely terrifying moments, it's also riddled with plot holes. Wouldn't an isolated Rocky Mountain hideout be just as safe as an abandoned surf shack? And that wouldn't require driving across Texas! Meanwhile, their attempts to stay free of infection feel haphazard at best. And since we don't believe this fundamental premise, the filmmakers' frequent attempts to generate big emotions never work at all.

Like THE ROAD, this is a fairly serious and grim look at what makes us human once society has been desolated. On the other hand, this is essentially a popcorn horror movie that uses youthful hijinks and jittery action to avoid real intensity and hopelessness. For example, before a glum doctor (Moses) euthanises a group of sick children, he takes the time to slowly draw a curtain for no real reason besides sparing us the view.
| | | |
| --- | --- | --- |
| | themes, language, violence, grisliness | 8.Dec.09 |