R E V I E W B Y R I C H C L I N E
dir-scr Goran Dukic
with Patrick Fugit, Shannyn Sossamon, Shea Whigham, Tom Waits, Will Arnett, Leslie Bibb, John Hawkes, Mikal P Lazarev, Sarah Roemer, Abraham Benrubi, Azura Skye, Mark Boone Jr
release US 19.Oct.07,
UK 23.Nov.07
06/US 1h28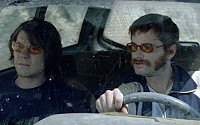 Road to nowhere: Fugit and Whigham




While it's quirky and intriguing, this is the kind of wilfully nutty black comedy that treads the extremely thin line between inventiveness and pretentiousness. And in the end, this one's just a bit too wacky to really engage with.

After committing suicide, Zia (Fugit) wakes up to find himself in a gloomy desert afterlife, where the residents bear the scars of their self-inflicted injuries. He soon meets the lively Eugene (Whigham), a Russian who lives with his entire suicidal family, and finds out that his ex-girlfriend (Bibb) has also arrived. So he and Eugene set off to find her, picking up a hitchhiker (Sossamon) who believes she's in this place by mistake. Along the road, they run into a mysterious stranger (Waits) who may be able to help them in their quests.

Setting an offbeat romance in the land of the dead is rather daring, and you get the feeling that Dukic knows it. He indulges in lots of deadpan dialog, blackly comedic situations and even some cheap gags (like Zia's job in the Kamikaze Pizzeria). But he also injects plenty of wit into production design and characterisations, filling what's essentially a road movie with lots of engaging adventures, from a big festival for the self-pronounced King (Arnett) to the Waits' community of happy campers.

Fugit and Sossamon have an intriguingly jagged chemistry, while the lively Whigham comes across as a Michael Palin comedy sketch character from the Monty Python era. Eugene's suicidal family is a very witty gag stretched just a bit thin. But even the smallest character comes complete with a back-story, as everyone tries to guess how everyone else offed themselves. And there are several extremely vivid side characters to keep us on our toes.

But as it progresses, all of this zaniness becomes a bit of a blur, especially since it's shot in such a dull palette, as if all the colours have been sucked right into that black hole beneath Eugene's passenger seat. It's surreal and fascinatingly offbeat, but Dukic also pushes the bizarro envelope just a bit too far, straining to find some sentiment in a story that has left all of the emotions off-screen.
| | | |
| --- | --- | --- |
| | themes, language, violence | 18.Sep.07 |