R E V I E W B Y R I C H C L I N E
dir-scr Werner Herzog
with Christian Bale, Steve Zahn, Jeremy Davies, Galen Yuen, Marshall Bell, Toby Huss, Zach Grenier, Teerawat Mulvilai, Abhijati Meuk Jusakul, Kriangsak Ming-olo, Yuttana Muenwaja, Chorn Solyda
release US 4.Jul.07,
UK 23.Nov.07
06/Germany MGM 2h05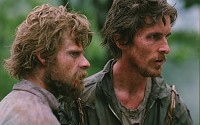 Grizzly men: Zahn and Bale



TORONTO FILM FESTIVAL


---
See also:
RICH'S INTERVIEW
WITH WERNER HERZOG
(for Rotten Tomatoes)

Expertly filmed and vividly well-acted, this true-life war thriller is remarkably understated and yet powerfully gripping and moving. It completely blows most contrived American action movies off the screen.

Dieter Dengler (Bale) is a German-born U.S. fighter pilot sent into the escalating conflict in 1965 Viet Nam. On his first raid into Laos, he's shot down and captured, held in a make-shift jungle prison. His fellow inmates include the panicky Duane (Zahn) and the nut-case Gene (Davies), and Dieter leads them to plot an elaborate escape. But being out in the rainforest isn't much of an improvement over the grim conditions in the camp.

Without sensationalising a single scene, writer-director Herzog faithfully tells an astonishing story of tenacity and survival. We experience the entire odyssey right alongside Dengler, seeing things from his singular perspective. And this is one of Bale's most astonishing roles yet (which is saying a lot), as he dives deeply into the character and clearly does most of his own gruelling stunts. Not to mention the outrageous physicality, from freaky weight loss to barefoot jungle treks.

The cast around him are also very good. While Davies does his usual crazy-eyed shtick, Zahn gets a meatier role as a guy stretched way beyond the breaking point, realising that his instinct to lie low isn't going to help him survive. Shot in Thailand, the local actors playing the guards are also intriguing, adding flashes of personality to make them much more than mere thugs. Especially the likeable, diminutive Ming-olo.

Meanwhile, Herzog shoots this like a vintage 1970s war movie, with saturated film stock, eye-grabbing photography (by Peter Zeitlinger) and a wonderful sense of pacing that refuses to follow any formula. The effect is to throw us right into the ordeal. We never have a clue what will happen next, and when the film reaches its astonishing conclusion, it catches us by surprise. Not just the sheer wave of unforced emotion, but also the remarkable humanity in the face of so much political evil. In other words, it couldn't be more timely. And without making any obvious statement, Herzog has made one of the best anti-war movies ever. As well as one of the best survival thrillers.
| | | |
| --- | --- | --- |
| | themes, violence, language | 18.Jan.07 |