R E V I E W B Y R I C H C L I N E
dir-scr Gus Van Sant
with Gabe Nevins, Jake Miller, Taylor Momsen, Dillon Hines, Lauren McKinney, Oliver Garnier, Emma Nevins, Scott Patrick Green, Brad Peterson, Daniel Liu, John Michael Burrowes, Christopher Doyle
release UK 28.Dec.07, US 7.Mar.08
07/US MK2 1h25


Skater boy: Nevins (above), Miller and Momsen (below).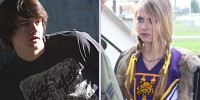 Van Sant has told stories about teenage slackers throughout his career, and this is one of his most razor-sharp films, with an involving plot, solidly realistic characters and exquisite cinematography.

To figure out what to do, high-schooler Alex (Nevins) chronicles recent momentous events out of order, as they come to mind. A man has been killed along the railroad tracks near Paranoid Park, where Alex hangs out with his skater pal Jared (Miller) and meets the older slackers Paisley, Jolt and Scratch (Nevins, Green and Peterson). Alex is struggling with his parents' divorce, the demands of his cheerleader girlfriend (Momsen) and his needy little brother (Hines). And he clearly knows more about the death than he's telling the detective (Liu).

Casting unknown actors pays off with performances that are offhanded and unfiltered; as much of the story is told in Alex's blank stare and hesitations as in the dialog itself. Nevins is terrific, carrying us into his moral dilemma and maintaining our empathy even when he makes the wrong choices. And his interaction with everyone around him is so pure that it sparks powerful emotional responses, from compassion to raucous laughter (the hilarious sex scene is almost too real).

Van Sant tells the story with disarming simplicity, using the out-of-sequence structure to maximum effect, piecing the puzzle together without gimmicky shock tactics (apart from one haunting moment of unspeakable violence). The photography by Christopher Doyle (who also plays Alex's "uncle") and Kathy Li is both nimble and revelatory. The extended tracking shots seem almost dreamlike, gliding along with the actors to intimately tell the story through their eyes. The mix of 35mm and Super 8, plus a skilfully layered sound design, is powerfully effective.

Some audiences will find Van Sant's approach a little too wilfully artful, but he simply never puts a foot wrong. Several sequences are unforgettably intense in their minimalism--the shower, the break-up, the accident itself. This is a teen's eye view of a very serious event, complete with intense moral complications. While being gripped by Alex's story, we celebrate youthful grace and athleticism, as well as the point where bravado meets naiveté. This is complex and challenging cinema at its very best.
| | | |
| --- | --- | --- |
| | themes, language, sexuality, grisliness | 21.Aug.07 |


Liam, yahoo:

"Love it! The characters had great depth and not being proper actors this was a great acheivement. The narrative structure was complex and helped empahsised how the character recalled the event. Quickly became one of my best teen films. If you liked elephant (Gus Van Sant) look it up." (13.Mar.08)

chandler, livingston, nj:

"The movie was absolutly amazing. Casting unprofessional actors just helped the film even more. Gabe Nevins is amazing, gorgeous and he never fails to seem scared, unhappy, cheerful, or nervous. This movie was one of Van Sants best films." (16.Mar.08)