R E V I E W B Y R I C H C L I N E
dir-scr John August
with Ryan Reynolds, Hope Davis, Melissa McCarthy, Elle Fanning, Dahlia Salem, Ben Falcone, David Denman, Octavia Spencer, Ellen Treanor, Sean Andrews, Nicholas Garren, Greg Baine
release US 31.Aug.07,
UK 30.Nov.07
07/US Destination 1h39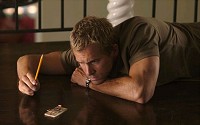 Who am I: Reynolds



SUNDANCE FILM FEST
VENICE FILM FEST

There's an enjoyable mind-bending quality to this three-part film, which is extremely well-performed by its cast. With an almost Donnie Darko sense of apocalyptic mystery, writer-director August really gets our heads spinning.

In The Prisoner, a beefcake actor (Reynolds) is confined to house-arrest with his sassy publicist (McCarthy), but enjoys an illicit friendship with his neighbour (Davis). In Reality Television, we follow the progress of a TV series creator (Reynolds) as he makes the pilot episode with his best friend as the show's star (McCarthy), but a network exec (Davis) wants him to recast the role. And in Knowing, a videogame designer (Reynolds) is stranded in the hills with his wife (McCarthy) and daughter (Fanning), then a passing stranger (Davis) offers a strange kind of help.

These three stories are separate but overlapping, as if they exist in different times or universes, and they also work together to examine in a much larger scale the concept of creation. Clearly, August is deploying his god-like persona as a writer here, playing with his characters and letting them seize control of their own destinies to varying degrees. In many ways, this is a movie made specifically for writers and diehard film geeks. No wonder I loved it.

And there are plenty of things to like about the film. Reynolds finally breaks out of his lazy-role syndrome to give three performances here that are fascinating, insinuating and often very funny. The three men--Gary, Gavin and Gabriel--are clearly flip sides of the same man, and it's not until the end that the film makes some sense of it all. Opposite him, both McCarthy and Davis are snappy and edgy, adding frisson to each scene that keeps us gripped.

The film's title refers to a running theme about near-perfection, and at the end of the third chapter everything starts to unfold out into a bracing examination of human existence and interaction. Yes, it's all rather indulgent, but it's also completely absorbing as August playfully echoes dialog, characters and ideas throughout each segment, and then brings it all together in an outrageously far-reaching metaphysical catharsis. It's utterly bizarre, but also rather wonderful.
| | | |
| --- | --- | --- |
| | themes, language, sexuality | 31.Oct.07 |