R E V I E W B Y R I C H C L I N E
dir Michael Winterbottom
scr John Orloff
with Angelina Jolie, Dan Futterman, Archie Panjabi, Irrfan Khan, Will Patton, Denis O'Hare, Adnan Siddiqui, Gary Wilmes, Daud Khan, Ishaque Ahmed, Perrine Moran, Jeffry Kaplow
release US 22.Jun.07,
UK 21.Sep.07
07/US Paramount 1h43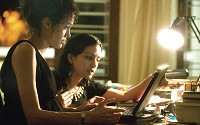 Watch and wait: Jolie and Panjabi




Winterbottom is at the peak of his directorial powers with this skilfully made drama based on true events from Pakistan. Using a documentary style, he avoids cliches to tell a provocative story and capture powerfully raw performances.

Daniel Pearl (Futterman) is an American journalist, living in Islamabad with his French journalist wife Marianne (Jolie) in the months after 9/11. On their way home in January 2002, they make a stopover in Karachi, where Daniel has one last interview with a reclusive sheikh. But he never comes home. Marianne's friend Asra (Panjabi) stands with her as a local anti-terrorism cop (Irrfan Khan) works with American government officials (Patton and Bussey) to track down the kidnappers and, hopefully, rescue Daniel.

Even though the story and its outcome are familiar, Winterbottom directs with such urgency that we are carried right into the film alongside the characters. Like United 93, the chain of events is edgy and alive, never sensationalising a single scene. The cast are almost invisible, playing their roles with restraint and letting their strength and emotions show in the smallest gestures and tiny flickers of the eye.

Jolie is especially impressive, vanishing completely into the steely Marianne. The film is based on her book, so her perspective is sharp from the beginning. After a few brief scenes, we only see Daniel in flashbacks, but Futterman still creates an unforgettable character through Marianne's eyes. Meanwhile, Panjabi and Irrfan Khan both shine in pivotal supporting roles that are deepened with subtlety and skill.

All of this is complimented by Orloff's intelligent script, which avoids trying to give easy answers or simplify a bewilderingly complex situation. Daniel's Jewishness, misdirected American might, thuggish Islamic leaders and third world poverty are all factors here, but they add meaningful texture rather than merely trying to explain away the wrenching overall situation.

"What do Americans know about Afghanistan besides that they're bombing it?" asks one journalist, who's struggling to tell her story back home even though no one seems interested. This is a rare film that actually manages to put an American's wartime death into perspective, pointing out that Pakistan is both a villain and a real victim here. Powerfully moving, and utterly unmissable.
| | | |
| --- | --- | --- |
| | strong themes, language | 24.Jul.07 |