R E V I E W B Y R I C H C L I N E
dir Jason Reitman
scr Diablo Cody
with Ellen Page, Michael Cera, Jennifer Garner, Jason Bateman, Olivia Thirlby, JK Simmons, Allison Janney, Eileen Pedde, Sierra Pitkin, Emily Perkins, Cameron Bright, Rainn Wilson
release US 7.Dec.07, UK 8.Feb.08
07/US Fox 1h32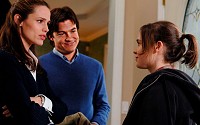 Knocked-up: Garner, Bateman and Page



---
See also: INTERVIEWS WITH
ALLISON JANNEY,
ELLEN PAGE & DIABLO CODY
---

This comedy about teen pregnancy is extremely entertaining, packed with dialog that's rather too smart and snappy. Besides the teen naiveté, there's not a stupid person in sight, which seems a bit unrealistic.

After brainy 16-year-olds Juno MacGuff (Page) and Paulie (Cera) decide to lose their virginity, Juno soon discovers she's pregnant. When she can't go through with an abortion, her dad and stepmom (Simmons and Janney) are extremely supportive, as is her best friend Leah (Thirlby). She soon finds the perfect childless couple, Vanessa and Mark (Garner and Bateman), to adopt her baby. But nothing in life is this straightforward: Vanessa and Mark's marriage is a bundle of compromises, and Juno and Paulie haven't a clue what to do now.

Reitman establishes a sassy, likeable tone from the start, with colourful production design and a terrific indie song score. Meanwhile, Cody's script develops characters who are so full of personality that they almost burst out of the screen. Without exception, every line is fiercely clever, packed with biting humour and riotous emotion, plus a comical tone that masks a serious examination of the whole abortion-adoption issue. The problem is that every character has exactly the right words to say in every situation.

With a script this badly overwritten, the film feels like a sitcom. Although when the dialog is this sharp, we don't mind much. And it certainly keeps us laughing, especially as delivered by this excellent cast. Page is simply fantastic as the teen who thinks she's in control, but she's nowhere near it. Garner really should do more roles with strong emotional resonance like this--she's wonderful. And Janney is the other standout, with several hysterical scenes all her own.

The film is loaded with hilarious touches, such as the way Juno got her name after the Greek goddess who was "very beautiful and very mean, like Diana Ross". And there are frequent moments of strong insight, most notably in the way Juno has no idea where she's stirring trouble, although she admits, "I'm dealing with things way beyond my maturity level." But what linger are the charming and moving scenes between Juno and Paulie. And it's here that the film finds its heart.
| | | |
| --- | --- | --- |
| | themes, language, some grisliness | 17.Oct.07 |