R E V I E W B Y R I C H C L I N E
dir-scr Jake Paltrow
with Martin Freeman, Gwyneth Paltrow, Simon Pegg, Penélope Cruz, Danny DeVito, Michael Gambon, Amber Rose Sealey, Steffan Boje, Jarvis Cocker, Keith Allen, Sonia Doubell, Skye Bennett
release US 5.Oct.07, UK 18.Jan.08
07/US Destination 1h33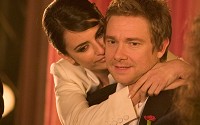 Sweet dreams are made of this: Cruz and Freeman




An intriguing examination of identity that shifts from pitch-black comedy to introspective melodrama, this film catches our imagination through clever storytelling and offhanded performances.

Gary (Freeman) was once in a pop band with his pal Paul (Pegg). Both are Englishmen living in New York, Gary with his tetchy girlfriend Dora (Paltrow) and Paul with his girlfriend Terry (Sealey), who's oblivious to his womanising ways. But as Gary finds his career and relationship going nowhere, he retreats into a dream-life with Anna (Cruz), and consults a dreaming expert (DeVito) for help in controlling his night-time fantasies. Soon he's not sure whether he'd rather be awake or asleep. And then he sees Anna's picture in an advertisement: she's real!

Framed with doc-style to-camera interviews, the film has a bone-dry sense of humour right from the start, peeling apart the relationships and digging into the inner neuroses of the characters. No one in this film is happy with where they are, and yet they continue to playact in public. They're all afraid of mediocrity, not failure, and yet they're stuck in a dull rut that's eating away at their respect for themselves and each other. In other words, virtually anyone in the West can identify with these themes, especially as they're so sharply played out by the cast.

Freeman anchors the film as a guy whose inner being is a complete mess; with dreams this good, why bother with real life? His everyman persona is perfectly suited to this role, and he bounces terrifically off the hilariously grouchy Paltrow and the darkly enthusiastic Pegg, who play nice twists on the usual rom-com roles of the conflicted spouse and loser best friend. And Cruz adds some spark as the two versions of Anna--the purring dream-girl and the spiky real one.

As the story progresses writer-director Paltrow quietly begins to dig beneath the comical surface to examine some extremely provocative themes. Along the way, the plot takes some surprising turns and becomes increasingly thoughtful, while maintaining the witty tone and sharpening the characters. And in the end, it encourages us to ask the key question: What would we do if we actually achieved our dreams?
| | | |
| --- | --- | --- |
| | themes, language, innuendo | 30.Nov.07 |