R E V I E W B Y R I C H C L I N E
dir Roger Michell
scr Hanif Kureishi
with Peter O'Toole, Leslie Phillips, Jodie Whittaker, Vanessa Redgrave, Richard Griffiths, Philip Fox, Bronson Webb, Julian Rhind-Tutt, Kate Lock, Cathryn Bradshaw, Sam Kenyon, Corin Redgrave
release US 21.Dec.06,
UK 26.Jan.07
06/UK Miramax 1h35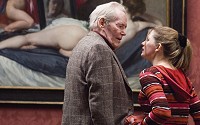 Yeah, baby, she's got it: O'Toole and Whitakker




The writer and director behind The Mother team up for another compact British film examining a relationship that crosses the age barrier. Witty dialog and a strong story keep it thoroughly entertaining, as do the sparky performances.

Now in his 70s, Maurice (O'Toole) finds most acting jobs he gets are fairly dull ("I'm being typecast as a corpse"). But he's enjoying his cantankerous life with actor buddy Ian (Phillips). Then Ian's grandniece Jessie (Whittaker) arrives in London, and Ian can't stand to have her around the flat. Maurice on the other hand is smitten by this vision in pink velour, volunteering to show her around town and pushing his luck rather a lot. Meanwhile, he gets some potentially bad news from his doctor. Not that it'll slow him down.

Kureishi's dialog snaps and crackles with wit, magnified by the terrific chemistry between the three leads. O'Toole and Phillips are fabulous, catching the realities of ageing in the slightest details, assuring us that they're up to as much mischief as they ever were--perhaps more. Together they are absolutely wonderful--a classic screen pairing. And O'Toole and Whittaker bounce off each other brilliantly as well. It's actually appropriate and sweet when he nicknames her Venus, after the painting he shows her in the National Gallery.

Whittaker makes a remarkable film debut, catching Jessie's inner life and holding her own against these shameless scene-stealers. And in much smaller roles, both Vanessa Redgrave (as Maurice's patient ex-wife) and Griffiths (as the boys' long-suffering drinking buddy) add depth and texture as well. This is definitely an actors' movie, and the cast members relish the dialog and situations. As they develop vivid characters that continually catch us off guard, the film's themes emerge beautifully, while the comical dialog and situations keep us laughing.

The foul-mouthed banter is razor sharp, full of clever jokes and gleeful silliness. The script plays with literature and pop culture (when Maurice quotes Shakespeare, Jessie counters with Kylie). While he loves life, we can vividly feel Maurice's yearning for youth and beauty. And the film's final act carries a beautiful emotional kick that's never remotely sentimental.
| | | |
| --- | --- | --- |
| | themes, language, innuendo | 20.Oct.06 lff |