R E V I E W B Y R I C H C L I N E
dir-scr Shane Meadows
with Thomas Turgoose, Stephen Graham, Joe Gilgun, Jo Hartley, Andrew Shim, Rosamund Hanson, Andrew Ellis, Vicky McClure, Jack O'Connell, George Newton, Perry Benson, Frank Harper
release UK 27.Apr.07, US 27.Jul.07
06/UK FilmFour 1h40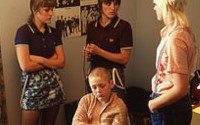 The haircut: Chanel Cresswell, McClure, Daneille Watson and Turgoose (above); Graham (below)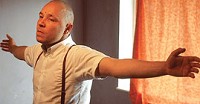 ---
See also:
INTERVIEW WITH SHANE MEADOWS

Shane Meadows uses his own childhood as the basis for this striking film, beautifully recreating 1980s Britain with the help of a terrific cast. It's easily Meadows' best film yet, and one of the finest films of the year.

It's 1983 and tough 12-year-old Shaun (Turgoose), who lives with his mother (Hartley), is struggling to cope with his father's death while fighting in the Falklands. The other kids tease him mercilessly, but a group of skinhead punks led by Woody (Gilgun) take him in, shaving his head and kitting him out with a Ben Sherman shirt and Doc Martens. Then Combo (Graham) returns from prison and divides the group with his racist nationalism. And Shaun is quickly won over.

Meadows brings together the various elements perfectly, balancing sharp social commentary with realistic wit and humour. And the performances are startlingly natural. Turgoose is a rare child actor who can carry a movie without dipping into sentimentality. His prepubescent inquisitiveness, gullible acceptance of things older people should know better, and emotional response to events around him are spot on. His scenes with "girlfriend" Hanson are absolutely wonderful, even if they're deeply wrong.

The other standout in the ensemble is Graham, whose beliefs, actions and ability to win people to his side are seriously frightening. But even if he's the ostensible villain of the piece, we can also see his inner insecurity and frustration at how society has lost its way. This is clear through both Graham's transparent performance and Meadows' astute script, which hones in on the violent bravado with razor-sharp precision.

Elegantly filmed in like a plaintive fable, with a score that blends period pop tunes with lush instrumentals, the emotive style at times seems to jar with the insidious storyline. But there's a powerful warmth and resonance most films on this kind of topic can never even hint at. Echoes of today's society are clear but never heavy-handed, and many scenes leap off the screen with sheer intensity, such as a nationalist rally that feels like a fundamental religious service. It's an excellent film that'll both stir your mind and break your heart.
| | | |
| --- | --- | --- |
| | strong themes, language, violence | 1.Nov.06 lff |