R E V I E W B Y R I C H C L I N E
dir Marc Evans
scr Angela Pell
with Alan Rickman, Sigourney Weaver, Carrie-Anne Moss, James Allodi, Callum Keith Rennie, Emily Hampshire, David Fox, Jayne Eastwood, Johnny Goltz, Mark McKinney, Jackie Brown, Julie Stewart
release UK 8.Sep.06, US 25.Dec.06
06/Canada 1h45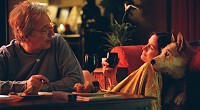 Friendly neighbours: Rickman, Moss and a dog named Marilyn




Thoughtful and moving, this intriguing drama is packed with emotions and insights that catch us off guard. A strong script and a remarkable central performance make it well worth seeing.

Alex (Rickman) is a sardonic British man driving across Canada. After a strange meeting and a shocking accident, he's stranded and alone in snowy Wawa, Ontario, where he's forced to confront his complex past through a series of all-new events and relationships. At the centre is Linda (Weaver), an eccentric and extremely detached woman who Alex learns is high-functioning autistic. An awkward friendship ensues, complicated by Alex's romance with the divorcee next door (Moss).

Evans shifts intriguingly from his usual thriller genre (see My Little Eye or Trauma), directing with a sensitive touch and few flourishes. He focusses on the characters and their environments, letting us see right into them as they reveal their secrets. Pell's script is a marvellously complex examination of people who are either unable or unwilling to explain or justify who they are. As it focuses in on its central message about accepting people totally, it carries real weight, both emotionally and thematically.

Rickman is astounding, giving Alex a sharp wit and an amazingly textured inner life, which we see within his eyes and his tiny reactions to the people around him. "I don't have baggage, I have haulage," he says at one point, and we believe him even though we have yet to learn what he's been through. The supporting cast are also delicate and expressive; Moss has a brittle strength that comes through strongly, while Rennie barely says a word but conveys his truck driver's troubled soul brilliantly.

Weaver is more troublesome in the trickiest role. There are moments when she takes our breath away with a flash of raw transparency. But at other times we can see the acting gears turning, which waters down the film's magic. Still, watching Linda and Alex come to terms with life in their own specific ways is thoroughly engaging. There are moments of sheer genius (such as Linda's comic book Scrabble), and the film has a final kick that's both important and deeply stirring.
| | | |
| --- | --- | --- |
| | themes, language, brief violence | 5.Jul.06 |


Lois Framing, Woodbridge, Indiana:

"I found this film both painfully overdone and underdone at the same time. Weaver's portrayal was very offputting, and Alan Rickman is just too old to be romancing Carrie Anne Moss, no matter how awkward or comic its supposed to be. The script tries way too hard to be funny and just isn't, and then when there is a chance to be touching or serious it skitters away from the point. Marc Evans directing was film-school-ish and dull as well. Aside from the professional actors involved, it's almost as if none of the people making this film know how to express themselves in the language of filmmaking. It made me wonder why they bothered." (11.Dec.06)