R E V I E W B Y R I C H C L I N E
dir-scr John Cameron Mitchell
with Sook-Yin Lee, Paul Dawson, Lindsay Beamish, PJ DeBoy, Jay Brannan, Raphael Barker, Peter Stickles, Justin Bond, Stephen Kent Jusick, Alan Mandell, Adam Hardman, Miriam Shor
release US 4.Oct.06, UK 1.Dec.06
06/US Fortissimo 1h52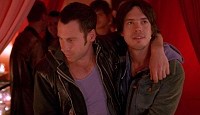 Get on the bus: DeBoy and Dawson (above), Lin and Barker (below).

CANNES FILM FEST

Deliberately taking on the American prudishness that he sees as leading to joyless, formulaic porn, Mitchell (Hedwig and the Angry Inch) refuses to shy away from explicit sex in this engagingly funny, emotionally involving romance.

Three stories intersect at Shortbus, an underground Brooklyn arts and sex club hosted by fabulous diva Justin (Bond): Sofia (Lin) is a couples' counsellor who loves her husband (Barker) but has never been satisfied in bed, despite rather a lot of trying. James (Dawson) left his job as an escort, but he can't abandon himself to his boyfriend Jamie (DeBoy), a former child star. Maybe a three-way relationship (with Brannan) will help. And Severin (Beamish) enjoys her work as a dominatrix, but longs for a real relationship.

Mitchell workshopped the screenplay Mike Leigh-style for nearly two years with his novice cast, and the result is bracingly fresh. The characters feel extremely real, their dialog unscripted and their relationships organic. And with the film's physicality, Mitchell definitely succeeds in making sexuality joyful and funny, much more accurately reflecting the real world than any Hollywood romantic comedy can manage. Yes, it's perhaps a bit more intimately detailed than necessary. But the explicitness isn't what you remember, simply because the characters and relationships are so sweet and charming.

Several stars deserve to be born from the solid young cast. Most notable is Dawson, in a tricky role as the depressive James. Each actor has scenes that are raucously funny, profoundly emotional and honestly sexy. The script crackles with sharp dialog--snappy one-liners ("You're so far behind that you think you're first") and inspired silliness that actually has a ring of truth to it (such as an indescribable rendition of The Star-spangled Banner).

Along the way, Mitchell brilliantly captures the yearning of people who can't quite arrive where they want to be in life. As one character observes, life in 21st century New York is just like the 1960s, only with less hope. They feel like outcasts, disabled, travelling to school on the short bus, rather than the mainstream big yellow one. And Mitchell suggests that the short bus is a much healthier place to be. Simply brilliant.
| | | |
| --- | --- | --- |
| | strong themes, explicit sexuality, language | 6.Sep.06 |