R E V I E W B Y R I C H C L I N E
dir-scr Sarah Watt
with William McInnes, Justine Clarke, Anthony Hayes, Andrew S Gilbert, Lisa Flanagan, Daniella Farinacci, Andreas Sobik, Sacha Horler, Maggie Dence, Edwin Hodgeman, Alex Rafalowicz, Daniel Whyte
release Aus 18.Aug.05,
US 14.Apr.06, UK 25.Aug.06
05/Australia 1h40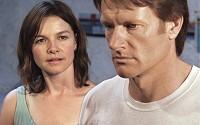 Death is all around: Clarke and McInnes (above), and Hayes

TORONTO FILM FEST
CANNES FILM FEST

Only an Australian could make such a warm, gentle comedy about how death is all around us. Sarah Watt's remarkable achievement is to make us look at life in a new way.

Meryl (Clarke) is a sympathy card illustrator with a pessimistic streak, imagining disaster around every corner. When she witnesses a fatal train incident, she meets newspaper photographer Nick (McInnes), who has lived life to the full and has just been diagnosed with cancer. Meanwhile, Nick's editor (Gilbert) is feeling increasingly disconnected from his family, as is his journalist colleague Andy (Hayes), whose ex-girlfriend (Flanagan) is pregnant. We also meet the train driver (Sobik) and a young widow (Farinacci), both struggling to make sense of their lives.

The central idea is that everyone is living on the brink, and no one can really know what anyone else is facing. These issues can be positive or negative, real or imagined, but we cope in our own ways. Watts examines this theme in an artful, effective way that gets far beneath our skin. Her clever editing blends the various story threads, with wonderful fantasy/flashback cutaways that are distinct to the characters (Meryl imagines in moving paintings, Nick in photo montage, Andy in news headlines).

These touches, combined with vivid performances, allow us into the characters' heads. Even though all of them are obsessed with death in one way or another, these are people clinging to life--hopeful, yearning, isolated yet engaged with their surroundings. Over the course of one weekend, they all face up to their inner demons with bracing honesty that forces a decision.

Fortunately, Watts doesn't wallow in her subject matter. If she did, the film would be unbearably intense. Instead, she cuts through it with sharp wit and blackly comical touches (everyone reacts to Nick by asking, "Is it cancer cancer?"). These things balance the melancholic tone, mixing humour with emotion so that what emerges is an involving, thoughtful examination of how people connect with each other. With the multiple plot strands, it's somewhat scattered and diffuse, and very reminiscent of Magnolia, but it's also thoroughly engaging and powerfully moving.
| | | |
| --- | --- | --- |
| | themes, some violence | 15.Jun.06 |