R E V I E W B Y R I C H C L I N E
dir Todd Field
scr Todd Field, Tom Perrotta
with Kate Winslet, Patrick Wilson, Jennifer Connelly, Noah Emmerich, Gregg Edelman, Jackie Earle Haley, Phyllis Somerville, Jane Adams, Sadie Goldstein, Ty Simpkins, Mary B McCann, Helen Carey
release US 6.Oct.06, UK 3.Nov.06
06/US New Line 2h20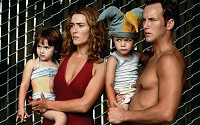 Play day: Winslet and Wilson (with Goldstein and Simkins)




After In the Bedroom, Field goes even deeper into the suburban psyche with this riveting, emotional drama about parents and children, expectations and pressures. It strikes such a strongly resonant chord that it's often difficult to watch, but we can't turn away.

Sarah (Winslet) is an outcast among the other mothers at the suburban playground, since she doesn't play by the rules. Especially when she dares to talk with the object of the other mothers' fantasies, hunky stay-at-home dad Brad (Wilson). But Sarah and Brad's teasing flirtation hits a nerve as they both struggle in their marriages--Sarah to her web-porn obsessed husband (Edelman) and Brad to his ambitious filmmaker wife (Connolly). Meanwhile, Brad's ex-cop friend (Emmerich) gets him to join a campaign against a registered sex offender (Haley) living in the neighbourhood.

Field and Perotta's script is almost unnervingly sharp, packed with telling moments such as a fear-mongering TV newscast about this "formerly tranquil neighbourhood" and an astonishing blind date between Haley and Adams. An omniscient narrator speaks with author-like insight into the characters' thoughts and feelings; these are things we already know, due to the astute performances, but talking about them in this way adds another provocative level of meaning.

Yes, the film does have a lot in common with American Beauty, although this is a more emotional story seen mainly through Sarah's eyes. And Winslet is raw and transparent in the role as a young mother doing things her way, then generating seriously steamy chemistry with Wilson as well. He in turn plays Brad's own journey with an edgy, introspective authenticity. And the supporting cast is terrific, especially Connolly's piercing glances, Haley's haunted physicality and Somerville's complex compassion as a paedophile's mother.

Field captures the repression and possibilities with a razor sharp eye. The film is packed with telling glimpses through the surface--both hilarious and terrifying, as people find ways to feel alive in such a deadening environment. In the end, the plot threatens to overtake the themes and characters; we feel it building to something overpoweringly tragic. But the conclusion is genuinely surprising, and wrenchingly hopeful in all the wrong ways.
| | | |
| --- | --- | --- |
| | themes, language, sexuality | 16.Oct.06 |