R E V I E W B Y R I C H C L I N E
dir Richard Linklater
scr Eric Schlosser, Richard Linklater
with Greg Kinnear, Bobby Cannavale, Ashley Johnson, Wilmer Valderrama, Catalina Sandino Moreno, Ana Claudia Talancón, Paul Dano, Ethan Hawke, Patricia Arquette, Bruce Willis, Kris Kristofferson, Avril Lavigne, Lou Taylor Pucci, Luis Guzmán, Esai Morales, Hugo Perez
release US 17.Nov.06,
UK 23.Mar.07
06/US BBC Films 1h54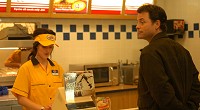 Where's the beef? Johnson and Kinnear (above); Guzman, Talancón, Sandino Moreno and Valderrama (below)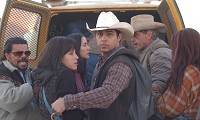 CANNES FILM FEST
LONDON FILM FEST

By writing a story around his non-fiction book, writer Schlosser cleverly works with filmmaker Linklater to create a dramatic movie that's engaging and provocative in a way a documentary couldn't be.

Happy American families eat at Mickey's! But along the Mexico-U.S. border, immigrants including Raul (Valderrama), his wife Sylvia (Sandino Moreno) and her sister Coco (Talancón) are sneaking across the border. They'll eventually get help from a coyote (Cannavale) to get jobs in a massive meat-packing plant in Colorado. Meanwhile in California, Mickey's marketing exec Don (Kinnear) is heading to Colorado to investigate some disturbing health tests regarding this plant--namely too much faecal matter in the burgers. And Amber (Johnson) works at a nearby Mickey's branch. Until she catches the activism bug.

The multi-strand approach is reminiscent of Gaghan (Syriana) or Sayles (Silver City), looking at the situation from three distinct angles. This also provides lots of terrific roles for the talented cast, including meaty one-scene turns for the likes of Hawke and Willis. Everyone catches the tone, playing real people who are tenacious and strong--and still pushed around by someone larger than themselves.

It's an enjoyable mix of lively dialog and a sharply funny tone that turns horrific as the truth emerges. The main question is why we're so willing to eat food provided by corporations that won't tell us where it comes from. Why do we put our health in the hands of someone whose only concern is profit, regardless of how many people are exploited along the way? Why are we content to live in cookie-cutter houses in police states while a few people make billions off of us? As one character says, "There's a reason why it only costs 99 cents."

It's pretty shocking stuff, and Linklater cleverly widens his net far beyond fast food. It's the corporate, multinational consumer machine that's the real target. And Linklater doesn't pull any punches, using doc-like camera work that's unembellished and natural while keeping us engaged and entertained by the humour, likeable characters and suspense. And as it progresses, we slowly realise that we're the ones to blame.
| | | |
| --- | --- | --- |
| | themes, language, sexuality] | 6.Oct.06 |