R E V I E W B Y R I C H C L I N E
The Hand: dir-scr Wong Kar Wai
with Gong Li, Chang Chen, Tin Fung, Auntie Luk, Zhou Jianjun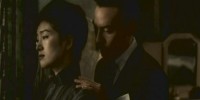 ---
Equilibrium: dir-scr Steven Soderbergh
with Robert Downey Jr, Alan Arkin, Ele Keats

---
The Dangerous Thread of Things: dir Michelangelo Antonioni
scr Michelangelo Antonioni, Tonino Guerra
with Christopher Buchholz, Regina Nemni, Luisa Ranieri

---
release It 3.Dec.04, USA 8.Apr.05, UK 22.Sep.06
04/China-US-Italy Warner 1h44

VENICE FILM FEST
TORONTO FILM FEST

Three filmmakers from different backgrounds and at different stages in their careers address the idea of eroticism in different ways in this intriguing but ultimately frustrating triptych.

The Hand follows a young tailor (Chang) who has an eye-opening encounter with a well-known courtesan (Gong) and then develops a working relationship with her over several years--as his career grows and hers falls apart. Wong keeps things shadowy and lush (thanks to Christopher Doyle's cinematography), building moods and helping us feel the aching emotions of people who keep each other at arms' length. It's gloomy and slow, but Gong is terrific as the feisty drama queen, even as she begins to fade away.

In Equilibrium, we meet Nick (Downey), who's in therapy with Dr Pearl (Arkin) to explore a recurring erotic dream about a mystery woman (Keats). But Dr Pearl has something else on his mind. Soderbergh films this like a 1950s comedy, with crisp black and white imagery that shifts to colour in Nick's dreams. It's both jazzy and dryly witty, even if the twisty plot never quite pays off. So it feels somewhat pointless and silly. But Downey and Arkin both shine.

And The Dangerous Thread of Things looks in on a stale marriage between a couple (Buchholz and Nemni) who both have encounter a girl (Ranieri) who lives in a nearby tower. Antonioni indulges in long takes, oblique scenes and lots of images of naked women frolicking, all of which makes the film feel pretentious. And while the stilted dialog catches the awkward communication of a struggling couple, it also feels meaningless. In the end, it's atmospheric and intriguing, but also vague and impenetrable

As a whole, there's nothing that links these independently produced segments beyond the loose theme. Each film has moments of raw genius--Gong's sharp initial seduction and Chang's later tenderness, Arkin's hilariously manic pantomime during Downey's soul-searching, Nemni's and Ranieri's deep enjoyment of their bodies. On their own or all together, these films are beautiful but not particularly telling.
| | | |
| --- | --- | --- |
| | themes, sexuality, language | 12.Aug.06 |