R E V I E W B Y R I C H C L I N E
dir-scr Jim Jarmusch
with Bill Murray, Jeffrey Wright, Sharon Stone, Frances Conroy, Jessica Lange, Tilda Swinton, Julie Delpy, Mark Webber, ChloŽ Sevigny, Christopher McDonald, Alexis Dziena, Heather Simms
release US 5.Aug.05, UK 21.Oct.05
05/US Focus 1h46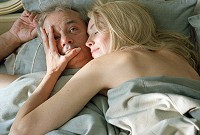 Old girlfriends: Murray and Stone




ē TOP 10 FILM

Grand Prix Winner: CANNES
DONOSTIA SAN SEBASTIAN FEST

With flawless performances and a gently hilarious tone, Jarmusch catches life with nuance and charm in this subtle comedy. And with its soul-searching theme, it's like a delicate variation on About Schmidt.

Don Johnston (Murray) is a confirmed bachelor whose girlfriend (Delpy) gets fed up and leaves, just as he receives an anonymous letter saying that he has a long-lost 18-year-old son. His neighbour (Wright) is an amateur sleuth, and he plots a fact-finding mission for Don to visit his girlfriends from that time period. What follows is a voyage into the past, as Don catches up with the sexy Laura (Stone), thoughtful Dora (Conroy), sensual Carmen (Lange) and physical Penny (Swinton). Can life ever be the same after such a journey?

Firstly, this film will be far too low-key for many viewers. Jarmusch has always resisted MTV-style editing and forced energy, concentrating instead on real life rhythms. And indeed, this film is almost too authentic for words; the settings and characters feel like places and people we know, and know far too well. From the historic neighbourhoods to anonymous suburbs to low-rent countryside--these aren't movie sets, they're places we've lived.

And the starry cast is clearly enjoying the chance to underplay their characters with knowing wit and telling pauses. This is the kind of thing Murray excels at, of course, and he's simply wonderful, while the women around him all sparkle with their own inner light. The characters aren't drawn with stereotypes, they're distinguished with personality, written and acted with sheer charisma.

Amid his deadpan observation, Jarmusch creates a story that's deeply provocative, and not in the way we expect. Like Don, we long for specific answers, but the revelations come when we're not looking. Revisiting old relationships and recognising patterns in new ones, struggling through awkward reunions and falling back into easy familiarity--to make these things sing requires impeccable filmmaking and perfectly balanced acting. Don may know that he's, as Delpy says, "an over-the-hill Don Juan," but he also knows he was happy in that life. "Was" being the operative word. It's not a new message, but it couldn't be delivered any more elegantly than this.
| | | |
| --- | --- | --- |
| | themes, language, nudity, brief violence | 2.Aug.05 |


Rita Gibson, net: "I used to really respect Bill Murray until this film. The nudity of a young girl in his presence was uncalled for. I thought his morals were higher than that. Also, there were no funny scenes. There just was no purpose at all for the story nor a plot. Just left one thinking that maybe Murray is so over the hill he needed to portray himself as this Don Juan. Did not make sense." (29.Aug.05)

Col Wildtrousers II, net:

"Another Jarmusch masterpiece. The laconic Donny (as most of his ex-lovers call him) is awakened from an extended mid-life crisis to go off in search for the mother of his alleged 19-year-old son. The road trip that brings Donny into contact with ex-lovers from 20 years back gives the viewer a glimpse into the past of deadpan Donny. The women concerned are all very different personalities, and you end up wondering how the character portrayed ever ended up with any of them. The receptions he recieves as he emerges from the past are as different as the women themselves - warm, diffident, hostile, incredulous. An amazing soundtrack to boot, a great road movie." (17.Oct.05)
Jamie Garwood, net: "A very interesting stab at the mainstream by Jarmusch, with a yet again brilliant performance from Murray who can say so much with the raise of an eyebrow or a look in the wrong direction. He is generous with the other talented actresses allowing the time when they are on screen. In the cinema the laughs were loud but the ending was unfortuately flat, leaving us disillusioned as Don is at the end. See it for Murray though. Very good." (18.Oct.05)