R E V I E W B Y R I C H C L I N E
dir Alejandro Amenábar
scr Alejandro Amenábar, Mateo Gil
with Javier Bardem, Belén Rueda, Lola Dueñas, Mabel Rivera, Clara Segura, Celso Bugallo, Tamar Novas, Francesc Garrido, Joan Dalmau, Alberto Jiménez, José María Pou, Alberto Amarilla
release Spain 3.Sep.04,
US 17.Dec.04, UK 11.Feb.05
New Line
04/Spain 2h05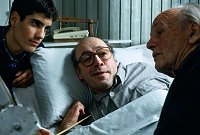 Whose life is it anyway: Novas, Bardem and Dalmau


VENICE FILM FEST
TORONTO FILM FEST
AFIFEST L.A.

After his remarkable ghost story The Others, Amenabar shifts gears drastically for this intensely moving drama about a difficult subject: assisted suicide. And superb filmmaking and devastating performances make it a must-see.

Ramon Sampedro (Bardem) has spent the past 26 years as a quadriplegic. His life isn't bad--he's cared for by his loving brother, sister-in-law, nephew and father (Bugallo, Rivera, Novas and Dalmau), plus a curious neighbour (Duenas). But he's had enough of life, so he contacts the Die With Dignity foundation, and a volunteer there (Segura) takes his case. His lawyer Julia (Rueda) also suffers from a disability, and the two develop a close bond over the next two years as they challenge the court for his right to choose death.

What sounds rather dismal and gloomy is actually a life-celebrating movie, focussing closely on the characters rather than bogging down in the political or moral issue at hand. And it's also filled with sharp humour. As a result, the emotions really grab us, especially with performances as strong as these. Bardem is simply wonderful, radiating energy and wit from his bed-prison ... and then starkly contrasting this in flashback scenes of Ramon as a robust young man. And he's matched by terrific acting from everyone around him, especially when the film reaches its climactic scenes.

Amenabar films this with a lyrical beauty--his camera sweeps through the scenes smoothly, quietly, subtly catching tiny details and revealing Ramon's inner thoughts, glimpses of the world he's created inside his head just to survive for the next hour. This is a film about respect, friendship and real love--not the gooey, romantic stuff we're used to seeing in noble movies, but much darker and tougher.

It's a complex, provocative approach to an extremely sensitive topic, daring us to tolerate, understand and respect viewpoints we tend to swiftly discount. And while never moralising or dipping into sentimentality, Amenabar beautifully traces the complex relationships between struggling people who so desperately need each other. Ultimately this is both delicately tender and overwhelmingly powerful.
| | | |
| --- | --- | --- |
| | adult themes, brief language | 30.Nov.04 |