R E V I E W B Y R I C H C L I N E
dir Pawel Pawlikowski
scr Pawel Pawlikowski, Michael Wynne
with Nathalie Press, Emily Blunt, Paddy Considine, Dean Andrews, Paul Antony-Barber, Lynette Edwards, Kathryn Sumner
release UK 22.Oct.04, US 17.Jun.05
BBC Films
04/UK 1h30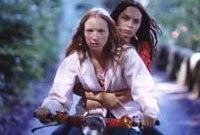 Epic journey: Press and Blunt

EDINBURGH FILM FESTIVAL
LONDON FILM FESTIVAL

To follow up his superb immigration drama Last Resort, Pawlikowski creates a gorgeous and intriguing coming-of-age movie, examining the nature of faith and love with real power.

Mona (Press) is a bored 16-year-old whose summer is looking especially unpromising when her married boyfriend (Andrews) dumps her and her ex-con brother Phil (Considine) becomes a zealous born again Christian, converting their pub into a spiritual retreat centre. Then she meets a rich girl, Tamsin (Blunt), who lives up the road, and the two become fast friends. And then some. But Mona's about to learn a few surprising truths about life. And Phil will also reach a point where simplistic answers just aren't enough.

As with Last Resort, Pawlikowski uses a raw, natural tone that completely draws us in. Besides looking beautiful (the rural Yorkshire setting is drenched in summer sunshine), this approach elicits natural performances that continually take us aback. And the film never takes a cheap shot--posh elitism, working class earthiness, religious zeal, young lesbian love--all of it feels achingly, radiantly real.

Press and Blunt, in their feature debuts, create strikingly believable characters. Mona's quirky, life-loving earthiness contrasts with Tamsin's privileged mischievousness. These are very different young women (Mona's mother died of cancer, Tamsin's sister died from anorexia), with unique reactions to religion, philosophy, music, cruelty. And yet we can feel the power of their attraction--two girls in the countryside one lonely summer who find in each other something they desperately need. These are complex, intricate performances, knitted together brilliantly by an astute script and finely tuned direction.

Meanwhile, Considine delivers another eloquent turn, getting deep under the skin of this troubled man who has genuinely found inner peace, but can't keep reality from intruding. Considine is so realistic that we never feel like he's making fun of Phil's earnest-but-strained religiosity. And this is no mean feat, since the film has such a dry, observational wit that we laugh at most things that happen on screen, even though nothing is overtly funny. This is a film about reaching the point where simple answers and fantasy solutions fall apart in the face of raw life. Beautiful and challenging.
| | | |
| --- | --- | --- |
| | adult themes and situations, language, brief violence | 19.Jul.04 |


Paul Robson, London:

"I had the very unusual experiene of being the only person in the cinema to view this film - I had bargained that Shopping City Wood Green would not have a huge amount of fans looking to see the best of intelligent and sensitive British cinema, but I certainly didn't think that I would be the only person there! Despite my fear of being alone in a cinema, I really did love this film. Every moment is beautiful - the landscapes, the mood, the two leading characters. Oranges Aren't the Only Fruit is the very obvious comparison, but this film is so much more subtle, so much more beautiful and poignant. It certainly took me back to the times of carefree days, smoking, drinking, not caring what anyone thinks about you - very refreshing and nostalgic. The sad sting in the tail is what takes us back to reality. In all, not everyone's cup of tea, as I found! But it certainly was mine." (31.Oct.04)