SHADOWS ON THE WALL | REVIEWS | NEWS | FESTIVAL | AWARDS | Q&A | ABOUT | TALKBACK

SHADOWS ARTHOUSE FILMS '04
Films unlikely to be showing at your local multiplex...
On this page: DRUM | THE HOLY GIRL
LOS ANGELES PLAYS ITSELF | TAKE MY EYES | WITH GEORGE BUSH ON MY MIND
< < M O R E | M O R E > >
More mainstream art films have their own pages.
Other offbeat films are at: SHADOWS FILM FESTIVAL | SHORT FILMS
last update 31.Oct.04

DRUM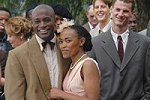 dir Zola Maseko • scr Jason Filardi
with Taye Diggs, Gabriel Mann, Jason Flemyng, Moshidi Motshegwa, Tumisho Masha, Fezile Mpela, Bonnie Mbuli, Tessa Jaye, Keketso Semoko, Tanya Baleson
release UK 30.Oct.04 lff • 04/South Africa 1h42


REVIEW BY RICH CLINE

Based on true events from 1955 Johannesburg, this story is so compelling and eye-opening that it triumphs over the rather clumsy direction and writing. It also helps that the cast is not only excellent, but obviously committed to getting the truth out.
Henry Nxumalo (Diggs) is an ace reporter for Drum magazine who, with the help of his sidekick photographer (Mann), is giving the government headaches over his articles about Apartheid injustice. His editor (Flemyng) is at first reluctant to print them, but when they prove big selling points for the magazine, he encourages Henry to really go for it. But the next story--about how the government plans to flatten the city's liveliest township and seize the land from its black owners--could be trouble for them all.
A lively and fascinating sense of local culture infuses this film, from the period details to the inventive use of music and locations. The central story about Henry's journey into activism is gripping, especially with Diggs' strong performance. As the men who work with him, Mann and Flemyng are standouts, and Motshegwa is superb as his long-suffering wife. The problem is that Filardi's script isn't as bracingly authentic as the acting; the dialog echoes with cliches, while contrived plotting put characters into situations that may be true, but they feel corny and movie-like. There's also the problem of throwing so many people at us that we can't figure out who they all are.
Maseko directs with energy and verve, but he struggles to capture the human drama. Despite the resounding depth of the narrative, the film often feels like a clunky TV movie, with awkward camera angles, wonky editing and clumsy sound recording. He also makes the mistake of including too many political issues-- government corruption, police brutality, farm slavery, prison dehumanisation, abortion rights, cross-cultural relationship prohibitions, illegal seizures and more. Each theme is so hugely important (and each features scenes of such honest power) that it could sustain a whole film on its own, although piled together they're overwhelming. But then, maybe this helps us begin to understand what life must have been like under such an oppressive government. [15 themes, language, violence, sexuality] 1.Nov.04 lff

THE HOLY GIRL [La Niña Santa]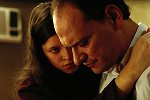 dir Lucrecia Martel • scr Juan Pablo Domenech, Lucrecia Martel
with Maria Alche, Mercedes Moran, Carlos Belloso, Julieta Zylberberg, Alejandro Urdapilleta, Mia Maestro, Marta Lubos, Arturo Goetz, Alejo Mango, Monica Villa
release Argentina 6.May.04, UK 4.Feb.05, US 29.Apr.05 • 04/Argentina 1h46


REVIEW BY RICH CLINE

Argentine director-cowriter Martel (La Cienaga) creates an astonishing atmosphere that's almost dreamlike in its examination of obsession, sexual awakening and redemption. It's such an intimately crafted film that it can't help but get under our skin.
Amalia (Alche) is a 16-year-old living with her mother (Moran) and uncle (Urdapilleta) in a family-owned hotel, which is being invaded by a medical convention. After church choir practice, Amalia and her friend Josefina (Zylberberg) sit with the other girls and talk about religious issues ... while whispering about sexual longings. Then one afternoon, one of the married doctors (Belloso) rubs against her suggestively. Amalia's reaction is a curious mixture--she stalks him out of curiosity, or perhaps it's love, or maybe she can save him.


Martel captures puberty remarkably well. These teens want to be pure and upright, yet it seems like everything they see, hear or touch ignites a frightening part of them they can't control. Through extreme close-ups and tight editing, the film bursts with almost overwhelming sensuality, and Martel uses this brilliantly to convey Amalia's journey. Meanwhile, Josefina is playing with fire, in the form of her boyfriend. These are bold but subtle performances that convey whole ideas through a glance or a touch, but not necessarily through the elusive dialog.
It's a very clever screenplay, mixing conversations about medicine and religion with lively, funny chitchat, all of which help define the various human connections, as well as the guilt and fear that flow through most of the characters. Is Amalia deluded about what really happened between her and the doctor? Does she feel like a guardian angel or a vengeful spirit? As the girls seek a sign--any sign--that will help make the world easier to understand, the adults seem to ignore all the most obvious signs around them. And as the tension builds, Martel's insinuating, seductive filmmaking style might be a bit elusive, but it establishes such a lush tone that our own reactions to the situations become as important as the characters themselves. [15 themes, sexuality, very brief nudity] 1.Nov.04 lff

LOS ANGELES PLAYS ITSELF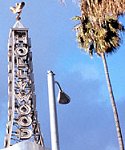 dir-scr Thom Andersen • narr Encke King
release US 28.Jul.04, UK 10.Dec.04 • 03/US 2h49


REVIEW BY RICH CLINE

A nearly three-hour running time might put people off seeing this documentary, but it's a fascinating look at America's most-filmed city, the people who live there and the movies that are made there.
Anderson, a CalArts professor, categorises his material into three chapters. The City as Background looks at how L.A. (he hates the initials, but I was born there so I can call it what I like!) is used sometimes literally, sometimes as a stand-in and sometimes in stereotypical or misleading ways. The City as Character digs deeper into the city's presence on screen. In films like Double Indemnity, Blade Runner and Earthquake, the setting is pivotal to the story. And familiar landmarks recur on screen, many of which (like the disco-skating club in Xanadu) don't exist anymore. The City as Subject goes deeper still, looking at films such as Chinatown, L.A. Confidential and Who Framed Roget Rabbit, which have created an accepted history of the city that's mostly fiction. Anderson then finishes with more accurate depictions in rarely seen independent films by filmmakers like Charles Burnett and Kent MacKenzie.
The script, laconically voiced by King, is full of Anderson's personal observations and opinions, including a love-hate relationship with movies that only rarely do the city justice. He clearly has problems with films that are nominally about Los Angeles but don't bother to dig beneath movie cliches--like Robert Altman's Short Cuts, Steve Martin's L.A. Story and even Woody Allen's Annie Hall. And he spends a lot of time on films that lay waste to the city--War of the Worlds, Predator 2, Independence Day--as if the studios have a death wish against their adopted hometown.
The sheer scope is astonishing, as is the fact that even after nearly three hours we don't want it to end! With clips from some 200 films, we can't help but notice things Anderson's left out. But he raises so many intriguing issues that our brains are constantly stimulated, especially since they're illustrated with such fantastic clips. He also digs into the city's racial and economic make-up, including an extended look at LAPD cops. And most importantly he looks at the distinction between Los Angeles and Hollywood, pointing out that only 1 of 40 Angelenos actually works in the industry--but you'd never know that from the movies. [12 themes, language, violence, sexuality] 31.Oct.04 lff

TAKE MY EYES [Te Doy Mis Ojos]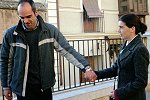 dir Iciar Bollain • scr Iciar Bollain, Alicia Luna
with Laia Marull, Luis Tosar, Candela Pena, Rosa Maria Sarda, Kiti Manver, Sergi Calleja, Dave Mooney, Nicolas Fernandez Luna, Elisabet Gelabert, Chus Gutierrez, Elena Irureta, Javier Batanero
release release Spain 10.Oct.03, UK 19.Nov.04, US 11.Nov.05 • 03/Spain 1h49


REVIEW BY RICH CLINE

There's a TV-movie feel to this involving and moving film, but the way it tackles the domestic abuse issue is more detailed and personal than we expect, staying centred on the characters instead of the topic. It won virtually every 2004 movie award in Spain, including Goyas for film, actor, actress, supporting actress, director and screenplay.
Pilar (Marull) is so terrified by her husband Antonio (Tosar) that she escapes one day, taking their son (Luna) along to live with her sister Ana (Pena). But Antonio can't accept this, so he enrols in group therapy, determined to change his behaviour. Ana (Pena), who's busy preparing for her own marriage to a Scotsman (Mooney), remains dubious about Antonio. But their mother (Sarda) is determined that they sort things out. Meanwhile, Pilar is finally discovering a few things about herself.
Basically, everyone in this film is on a journey of self-discovery, and it's in the characters' complexities that the film overcomes its issue-of-the-week premise. Filmmaker Bollain keeps things muted and very natural, then allows the emotional resonance to blossom in scenes that are both beautiful and chilling. The title refers to a Pilar and Antonio's loving wordplay, in which they give each other very personal gifts (the title is literally "I give you my eyes"). And as the story deepens and grows, this takes on a provocative new meaning.
The actors are superb; Marull brings the film a raw, emotional centre, while Tosar gives the standard bad-husband role a remarkably compassionate twist. All of the cast members capture their characters' deep desire to do the right thing. These subtle performances add a layer of subtext to the characters that gives the film a passionate cultural sensibility while also keeping it universal and identifiable. Through it all, the script maintains an undercurrent of suspense that's almost unbearable. A strong sense of hope mingles with the nagging dread that real life doesn't always come with the happy ending we want. Yes, it's a well-worn topic for the movies, but it's still so important that we can't afford ignore it. [15 themes, language, sexuality] 28.Oct.04

WITH GEORGE BUSH ON MY MIND [Los Abajo Firmantes]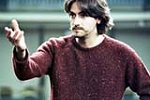 dir Joaquin Oristrell • scr Juan Diego Botto, Maria Botto, Javier Camara, Elvira Minguez, Joaquin Oristrell
with Juan Diego Botto, Javier Camara, Elvira Minguez, Maria Botto, Jose Manuel Cervino, Secun de la Rosa, Pepa Zaragoza, Marisa Paredes, Pedro Almodovar, Javier Bardem, Leonor Watling, Ana Belen
release Spain 17.Oct.03, UK 28.Oct.04 lff • 03/Spain 1h30


REVIEW BY RICH CLINE

The Spanish cast and crew workshopped this film to express their frustration over the way their government sided with America against the United Nations in early 2003. But regardless of the politics, this is an entertaining and compelling black comedy about a bickering theatre group trying to find a way to work together.
When their leading man dies in a car crash, a TV-soap heartthrob, Jorge (Juan Diego Botto), takes his place. But this causes all kinds of in-fighting amid the cast. Actor-director Mario (Camara) has always wanted the lead role, but knows it's better suited to the younger star. The diva Carmen (Minguez) is afraid he'll upstage her--or that he won't find her attractive. And the young Laura (Maria Botto) worries he might discover her secret. Outside the theatre, the prospect of war in Iraq is building to a head.

The superb ensemble creates vivid, delightfully winning characters with sharp, witty attitudes; even their political discussions are full of pointed humour. Every aspect of any theatre troupe is here--the egos, backbiting, jealousies, criticisms, rivalries and practical jokes--all in service to the story and characters. And Oristrell directs in a colourful, urgent style that heightens both the humorous tension and the political issues.
And there are fabulous touches that keep the film from becoming an overwhelming political manifesto. The various twisted interrelationships refuse to play out in expected ways. The dialog continually jolts us, from pointed silliness (Carmen: "Iran, Iraq, what difference does it make? It's just one letter!") to self-absorbed whinging (Jorge: "DiCaprio was nominated for an Oscar at 17. Brando did Streetcar at 22. I'm 27 and mediocre!"). And when it gets serious, cast and crew make sure we understand what's really going on. The fact that the play they're doing is Lorca's Play Without a Title is hardly irrelevant, but its real resonance builds slowly until they're "screaming the simple truths you don't want to hear". This is both an engaging romp and an important document of its time. [15 themes, language, drugs, sexuality] 30.Oct.04 lff