dir Frank Capra
scr Frances Goodrich, Albert Hackett, Frank Capra
with James Stewart, Donna Reed, Henry Travers, Lionel Barrymore, Thomas Mitchell, Beulah Blondi, Ward Bond, Gloria Grahame, Frank Albertson, HB Warner, Samuel S Hinds, Frank Faylen
RKO 46/US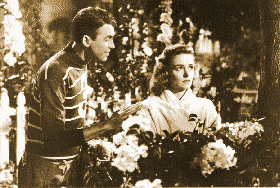 Dancing by the light of the moon: Stewart and Reed



R E V I E W B Y R I C H C L I N E

This is not only one of the best films of all time, but it's easily the greatest Christmas movie, which is why it's released on the big screen in Britain every year in time for the holidays. It's definitely worth seeing on the big screen - everytime you do, it's like you've never seen it before. This is my review from the 1997 re-issue....
Reissued to commemorate its 50th anniversary, this new print of Frank Capra's timeless classic is a full and utter joy to anyone who's only ever seen it on video. Up there where it belongs, the film has a life that hasn't been discovered by generations--Capra's marvellous attention to detail, terrifically nuanced performances from the entire cast, a striking visual look that simply can't be matched on the small screen, and most of all the communal experience of watching the film with a roomful of people sighing, laughing and trying to pretend that they're not misting up.
The story not only stands strong half a century later, but it continues to show up today's formulaic Hollywood films for the vacuous use of celluloid that they are. There are modern parallels galore in the odyssey of George Bailey (Stewart), forced to abandon his dreams throughout his life right up to the day when he decides the world would have been better off if he'd never been born. Comments on greed have never been more timely--our society seems to be heading toward Pottersville faster than ever. And the complex cast of characters seems so alive that they take your breath away no matter how many times you see the film.
But it's in the heart that the film strikes its richest chords--the romance, friendship and loyalty are sappy as ever, but it's all so effective that it sends you from the cinema singing--and unable to suppress a huge grin. If you've never seen it on a big screen, don't miss the chance! If you haven't got the luxury, do the next best thing and get the video (in black and white, not the dreadful colourised edition). You'll be glad you did.
| | | |
| --- | --- | --- |
| | some slightly adult themes | revisited 19.Dec.97 |


Matt Dowson, Bradford UK: "There are a few films that always choke me, and once again Frank Capra makes a lump come to my throat when the child George Bailey (Stewart) corrects the old pharmacist's mistake and thereby saves him from a stretch in prison for manslaughter. The dialogue is rich and flows around you for two wonderful hours. And once again I think, wasn't Donna Read beautiful? There are warm and well-drawn characters everywhere - Bert the Cop, Mr Martini the bar owner, and the local goodtime girl. The despair when things go wrong is powerful stuff - a father shouting at his children in the white heat of anger is never pleasant - and then we turn things round and your heart flies, and the lump appears again. The new print looks clean and rich. Such a treat to see a classic without the poor quality prints that you normally have to endure. The audience showed its appreciation in this festive showing just after Christmas by applauding loudly. Not often you get that."

sharon preston, uk: "Just a wonderful, magical, timeless film!" (31.May.08)