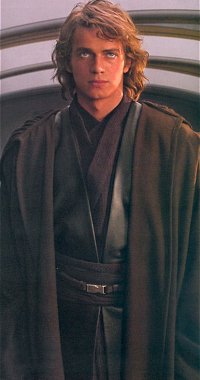 All things Lucasfilm...

The original Star Wars trilogy is episodes 4, 5 and 6 of a nine-part series, which creator George Lucas calls The Journal of the Whills, apparently a reference to those pesky Midichlorians. Lucas takes his time filming these movies. For example, Episode III shot in the summer of 2003 in Australia, then had reshoots in autumn 2004 before a May 2005 release. As Samuel L Jackson says, 'Filming Star Wars is weird s**t.' HE'S NOT FINISHED YET. Lucas is still tinkering with all six films to make it one long cohesive narrative for a "definitive" DVD version — moving bits of the music around, dropping characters in here and there, etc. He's also planning a couple of TV series to fill in gaps between films, like the Clone Wars cartoons between episodes II and III. One series in development will focus on the adventures of minor characters from the original trilogy, like Lucas' Young Indiana Jones TV series in the 1990s.

A SEQUEL TRILOGY? Lucas now insists that he never had any plans to make the third trilogy he originally talked about back in the early 1980s. During an interview in May 2002, he let slip that he's still thinking about it: "The challenge for me is telling a six-part story: so in Episode I there are things that I have to get in that refer to Episode VII — no, hang on, we're not there yet. I mean Episode IV." He then quickly added that "the next film completes the saga as originally written." But these Jedi mind tricks don't work on us.

In January 2004 three stories hit the gossip mill: Peter Mayhew's contract for appearing as Chewbacca in Episode III also includes appearances in Episodes VII, VIII and IX. One of the main Star Wars licencing companies has extended their agreement with Lucasfilm for 10 years — and they only make money in the years a film is released. And Pacific Title has extended its special effects contract with Lucasfilm to keep working on Star Wars movies until 2012.

Ewan McGregor
as Obi-Wan Kenobi (I-III)

Frank Oz
as Yoda (I-III, V-VI)

Natalie Portman
as Padmé Amidala (I-III)

Anthony Daniels
as C-3PO (I-VI)

Hayden Christensen
as Anakin Skywalker (II-III)

Kenny Baker
as R2-D2 (I-VI)

Christopher Lee
as Count Dooku (II-III)

Peter Mayhew
as Chewbacca (III-VI)

Samuel L Jackson
as Mace Windu (I-III)

Ahmed Best
as Jar Jar Binks (I-III)

Ian McDiarmid
as Palpatine (I-III, V-VI)

Andy Secombe
as Watto (I-II)

Temuera Morrison
as Jango Fett (II-III)

Jimmy Smits
as Senator Bail Organa (II-III)

Joel Edgerton
as Owen Lars (II-III)

Pernilla August
as Shmi Skywalker (I-II)

Bonnie Piesse
as Beru Whitesun (II-III)

Oliver Ford Davies
as Sio Bibble (I-III)

Ayesha Dharker
as Queen Jamilla (II-III)

Silas Carson
as Ki-Adi-Mundi and Nute Gunray (I-III)
Daniel Logan (Hercules) as the young Boba Fett
Jay Laga'aia (Xena) as Captain Typho
Leeanna Walsman (Heartbreak High) as Zam Wesell
Rose Byrne (Two Hands) as Dormé
Keisha Castle-Hughes (Whale Rider) as a regal leader
Jack Thompson (Broken Arrow) as Cliegg Lars
Susie Porter (Two Hands) as waitress Hermione Bagwa
Matt Doran (The Matrix) as Elan Sleazebaggano
Ronald Falk (A Cry in the Dark) as Dexter Jettster

TIME SCALE: Episode I takes place about 30-35 years before the original Star Wars, when Obi-Wan is 30, Anakin 10, and Amidala 14. Episode II about 10 years later; and Episode III is about two years after Episode II. Roughly 20 years passes between and A New Hope.

CONTINUITY: Lucas' big challenge was to preserve continuity in the series, which means that the character arcs and plot twists will be very different for new fans who experience the films in sequence I to VI for the first time. The surprises for them will be very different than for those of us who watched them in the order they were made — for example, the relationships between Vader, Luke and Leia will be no surprise. But Anakin's fall will. And Obi-Wan now has a completely different story that redefines his actions in IV. Also, Palpatine becomes the connecting point that runs through the entire saga - a seriously epic villain!

There are some problems with the time gap between III and IV - mostly because Episode III ends with everything in place for IV: the Organas' pristine ship, Moff Tarkin on Vader's ship. The problem: Luke, Leia, Obi-wan, Uncle Owen and Aunt Beru all need to age 20 years, while no one and nothing else seems to age at all!

EPISODE II: George Lucas shot digitally with a high-definition (24-frame) Sony camcorder and Panavision lenses that give look and feel of motion picture film. Extensive effects work was done simultaneously as the film was being shot, and continues at ILM in Northern California.

EPISODE III: Principal photography took place at Fox Studios in Sydney from July to September 2003. While on location with Episode II in Tunisia, Lucas apparently filmed one of the final shots for Episode III - Obi-Wan handing the young Luke to his Uncle Owen for safe-keeping. And while shooting Episode III, Lucas plans to film additional scenes to add into IV (Jimmy Smits as Bail Organa as Alderaan is destroyed by the Death Star) and VI (flashbacks of Natalie Portman as Padme and Hayden Christensen as the redeemed Anakin).

Ewan McGregor's uncle is Denis Lawson, who played Wedge Antilles in all three original films. (Wedge is the only X-wing pilot besides Luke to survive the trilogy). After Lawson visited McGregor on the set of Episode I, McGregor said, "He came up and sat with me, and he met George Lucas and he said, 'George, you're still wearing the same shirt.' And he was, apparently!"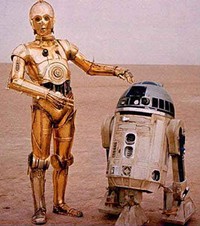 Anthony Daniels and Kenny Baker are the only cast members who will appear in all six films - as Threepio and Artoo, the droids through whose eyes the entire tale is told. Only two other characters appear in all six films, but they're played by multiple actors: Obi-Wan (Ewan McGregor I-III, Alec Guinness IV-VI) and Anakin (Jake Lloyd I, Hayden Christensen II-III, David Prowse IV-VI, Sebastian Shaw VI, voice of James Earl Jones III-VI).
Ian McDiarmid (Palpatine) played the Emperor at age 100 in Jedi and stars in the prequels as the younger Palpatine, closer to McDiarmid's 53. "I am 30 years younger in the new version so I'll be more recognisable. Anyway, I think they only cast me because of my long pointed nose. I have played a lot of grotesques because I suppose I look like one."


© 2005 by Rich Cline, Shadows on the Wall
HOME | REVIEWS | NEWS | FESTIVAL | AWARDS | Q&A | ABOUT | TALKBACK